'Fungal Spotlight: Host-Associated Microbiomes' – open for submissions
17 February 2022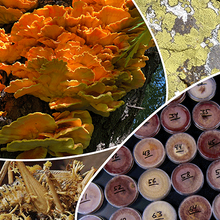 This year the Microbiology Society celebrates the 75th anniversary of Microbiology, and 75 years of publishing for the community. As part of this celebration, we will be continuing to release important themed collections, highlighting the breadth of microbiology and showcasing why microbiology matters.
For our first collection, we are excited to launch the 'Fungal Spotlight: Host-Associated Microbiomes' cross-journal collection, guest edited by Professor Corby Kistler (University of Minnesota), Dr Ferry Hagen (Westerdijk Fungal Biodiversity Institute), Dr David Fitzpatrick (Maynooth University), and Dr Daniel Croll (University of Neuchâtel).
Fungi comprise a distinct eukaryotic lineage often associated with their important role as degraders of organic substrates in the environment. However, fungi also form well-known symbiotic associations with higher plants, as mycorrhizae, or with algae as lichens. Additionally, fungi are a critical component of the environmental microbiome associated with both plants and animals. The functional role of fungi in these interactions is poorly understood. Increasingly fungi are being recognized as opportunistic pathogens of animals, including humans, and as plant pathogens, are a threat to the global supply of food. Fungi themselves may harbour their own unique microbiome or organise the microbiome of the substrate they colonise.
With Guest Editors from across our portfolio, the Fungal Spotlight brings together research from all areas of microbiology and will feature studies of fungi in host-associated microbiomes, functional analysis of host-fungal or fungal-microbe interactions, the genetic and genomic diversity of host-associated fungi, as well as the impacts of environmental fungi in natural and manmade ecosystems.
Find the articles already in the Fungal Spotlight collection. Authors wishing to submit to the collection should do so via the online submission system for the journal that they feel is most appropriate, and note in the cover letter that their submission is intended for the Fungal Spotlight collection. If you have any questions, please contact [email protected].
The Microbiology Society is a not-for-profit publisher, publishing for the community, and we support and invest in the microbiology community. All journals income is invested back into the Society through providing grants, facilitating policy activities, funding conferences and other activities. Support your community by publishing in a Microbiology Society journal.
Microbiology Society members receive a 30% discount on Open Access publishing in Society journals and corresponding authors at Publish and Read institutions can publish fee-free Open Access. Find out if your institution is Publish and Read.
---
Image: Corby Kistler (University of Minnesota, US), US Department of Agriculture (public domain) and Biotec, Thailand.