Implementation of Genomics in Clinical and Public Health Microbiology Collection – Call For Submissions and an Early Career Guest Editor
23 June 2022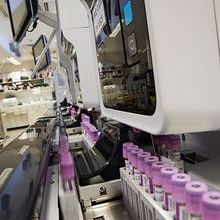 Microbial Genomics is pleased to open the call for submissions to its new collection 'Implementation of genomics in clinical and public health microbiology'.
Microbial sequencing is rapidly being incorporated into public health and clinical microbiology, informed by over two decades of microbial genomics research and methods development. However, the integration of genomics into public health and clinical services and workflows is complex and requires consideration of a wide range of issues including workflow management, data analysis and reporting, and evaluation of how microbial genomic data can and should be used to support decision-making. This collection puts the spotlight on studies supporting microbial genomics implementation – aiming to understand what, why, and how microbial genomics works in "real world" clinical and health laboratory settings, and testing approaches to improving the integration of genomics into routine microbiological diagnostics, surveillance and outbreak investigation.
Collection Editors – call for an early career Guest Editor
The 'Implementation of genomics in clinical and public health microbiology' collection is edited by Professor Kat Holt (London School of Hygiene & Tropical Medicine; Editor-In-Chief of Microbial Genomics), Professor Iruka N. Okeke (University of Ibadan; Senior Editor for the Pathogens and Epidemiology section), and Professor Kate Baker (University of Liverpool; Editor for the Pathogens and Epidemiology section).
We are also looking for an early career researcher to join these editors in curating the collection. This will provide a valuable professional development opportunity, enabling you to gain behind-the-scenes insight into the peer review process, hands-on editorial experience and an opportunity to expand your network. To be a Guest Editor for this collection, you should have:
completed your PhD,
have experience in an implementation setting,
are actively in research related to integration of genomics in clinical or public health microbiology.
You do not need to have any prior editorial experience.
If you would be interested in this opportunity, please email Hebba Beech at [email protected] by Friday 29 July with your CV and a brief cover letter outlining why you are interested in the role and what you feel you would bring to it.
Collection scope
This collection is now open for submissions. Manuscripts are welcomed in the following areas:
Research articles describing and/or evaluating protocols for routine use and interpretation of microbial genomics in clinical or public health.
Research articles that contribute to the evidence base for genomic implementation in a particular context, e.g. demonstrating a novel benefit or use case for genomics beyond those that are well-established in the literature already.
Methods articles describing new methods designed to support routine implementation of WGS, or benchmarking/testing of methods to assess suitability in routine use.
Personal View articles documenting the experience of integrating genomics into a specific public health or clinical setting, sharing lessons learned and recommendations for the future. For Personal View articles, please send a short pre-submission inquiry to

[email protected]

, outlining your proposed content prior to submission.
Microbial Genomics pioneers all areas of genome research spanning the breadth of microbial life including viruses, bacteria, archaea and microbial eukaryotes; and the collection will consider sequencing of all types including isolate sequencing, metagenomics, target-enrichment sequencing, transcriptomics.
For more information and guidance on the above article types, please see our Information for Authors. Authors wishing to submit to the collection should do so via the online submission system and note in the cover letter that their submission is intended for the 'Implementation of genomics in clinical and public health microbiology' collection. If you have any questions, please contact [email protected].
The Microbiology Society is a not-for-profit publisher and supports and invests in the microbiology community. All journal income is invested back into the Society be it through providing grants, facilitating policy activities, conferences – and other activities. All members receive a 30% discount on Open Access charges and all corresponding authors at Publish and Read institutions are entitled to fee-free Open Access. The Society also has an inclusive Open Access policy and any corresponding author from a country in Group A or B of the HINARI programme is automatically entitled to a 100% discount on Open Access charges.
---
Image: Adrian Wressell, Heart of England NHS FT. Attribution 4.0 International (CC BY 4.0).