Introducing Associate Professor Timothy Inglis, new Deputy Editor-in-Chief of Journal of Medical Microbiology
18 May 2021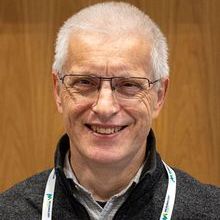 The Journal of Medical Microbiology (JMM) is delighted to announce Associate Professor Timothy (Tim) Inglis as its new Deputy Editor-in-Chief.
Professor Tim Inglis is a UK-trained medical microbiologist with a range of professional interests, spanning antimicrobial-resistant sepsis, emerging infectious diseases, culture-independent microbiology tests, neglected tropical diseases, biosecurity and machine learning applications in microbiology. Tim is Head of Pathology and Laboratory Medicine at the University of Western Australia, a Medical Microbiologist with the state pathology service, PathWest Laboratory Medicine, and is a contributing member of the Australian Public Health Laboratory Network (PHLN). We spoke to him about his career and what being Deputy Editor-in-Chief means to him.
When did you first decide you wanted to do science?
When shown amoebae under a microscope by my father, when I was 10. The microscope belonged to my great-grandfather.
What is your biggest professional achievement?
Mentoring the next generation of clinical laboratory scientists and medical microbiologists through their early career development.
What would you be doing in your career if you weren't a scientist?
Now? Probably data science.
What does it mean to you to be the Deputy Editor-in-Chief of Journal of Medical Microbiology?
An opportunity to work with the Editors-in-Chief and production team, particularly on new ways to bring medical microbiology to a wider readership.
Why are Society journals important?
They define the information space in which a group of professionals work. In these times of increased transparency, they provide a window into our workspace.
Why do you think authors should be publishing their articles Open Access, and getting involved with Publish and Read?
Science benefits from the broadest possible communication. Open Access speaks to the next generation, far more efficiently than the subscription model. Publish and Read is an effective means to engage institutions in our work.
What do you think the future holds for microbiology?
The crystal ball is a bit cloudy, but looking past the dust kicked up by COVID, microbiology won't go back in its box easily. Expect much more from the full range of systems biology tools and artificial intelligence, particularly culture-independent techniques that cope better with emerging infections.