Meet the President and network with fellow microbiologists in Birmingham
08 October 2021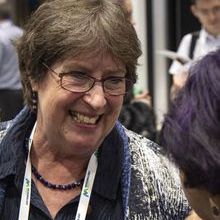 The Microbiology Society's final Roadshow event of 2021 will be held on Tuesday 2 November at Aston University, Birmingham, UK, and will be hosted by Dr Jonathan Cox from Aston University.
The Microbiology Society Roadshow events offer an opportunity for microbiologists in different areas to network locally, update their knowledge and learn about the Microbiology Society.
This meeting will provide an opportunity for attendees to hear our President, Professor Judith Armitage talk about her successful career in microbiology, her numerous accomplishments but also any challenges she has encountered in her journey.
Delegates will also be able to join a discussion with the President, ask any questions they might have, and find out more about publishing, grants and professional development opportunities at the Society. This will be a great opportunity to network with other microbiologists and meet new people in the local area.
The event is free to attend. To register your free place at the event, please get in touch with our team via email: [email protected].
More information about the event and registration is available on the event page.
Find out more about the event and register.