Symbiosis Collection – open for submissions
14 September 2021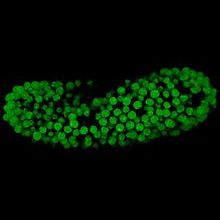 In the run up to its anniversary year in 2022, Microbiology is launching a series of themed collections which celebrate the breadth of microbiology and showcase why microbiology matters. This month we are excited to launch the Symbiosis collection, guest-edited by Professor Michael Brockhurst (University of Manchester) and Dr Rebecca J Hall (University of Birmingham).
Symbiosis has played a key role in the evolution of life on Earth. Symbiotic mergers of once-independent species drove the origin of eukaryotes. Moreover, symbiosis has enabled many species to gain novel functions and occupy new ecological niches, thus underpinning the functioning of diverse ecosystems. As endosymbionts, microbes provide their eukaryotic hosts with an array of ecological and physiological innovations, including new metabolic capabilities, such as autotrophy or nitrogen fixation, and protection against infections or environmental stressors. Microbial eukaryotes also commonly host their own endosymbionts, including bacteria and algae. Understanding the stability and resilience of symbioses is key to predicting the response of important ecosystems, such as coral reefs, to global change. Manipulating symbiotic associations also has far-reaching economic, environmental and medical implications, through the potential to improve crop productivity, reduce reliance on fertilisers, and control the insect vectors of infectious diseases.
This collection will feature microbe-focused studies of symbiosis, ranging from the molecular mechanisms of host-symbiont interactions, their genetic and genomic diversity, to understanding the impacts of symbioses in natural and manmade ecosystems.
Find the articles already in the Symbiosis collection. Authors wishing to submit to the collection should do so via the online submission system and note in the cover letter that their submission is intended for the Symbiosis collection. If you have any questions, please contact [email protected].
The Microbiology Society is a not-for-profit publisher and we support and invest in the microbiology community. All journals income is invested back into the Society through providing grants, facilitating policy activities, funding conferences and other activities.
Microbiology Society members receive a 30% discount on Open Access publishing in Society journals and corresponding authors at Publish and Read institutions can publish fee-free Open Access. Find out if your institution is Publish and Read here: microbiologyresearch.org/fee-free-open-access.
---
Image: Michael Brockhurst lab.