Aisling Towell wins the Sir Howard Dalton Young Microbiologist of the Year Competition 2020
26 November 2020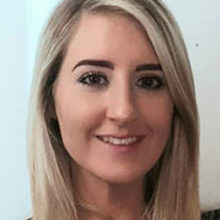 Aisling Towell, from Trinity College Dublin, Ireland, is the winner of this year's Sir Howard Dalton Young Microbiologist of the Year competition.
Aisling is currently working as a Scientific writer, Novartis Pharmaceuticals and was awarded the prize for her talk 'How does Staphylococcus aureus colonise atopic dermatitis skin?'.
Aisling said; "To even be nominated as a finalist for the Sir Howard Dalton Young Microbiologist of the Year competition was such a huge honour, it is hard to put into words how I feel having won. Anyone involved in research knows how deeply invested and passionate you are about your research, and it is an incredible feeling when that work is recognised.
Ever since the start of my PhD, I've fully believed that how we communicate science is a vital skill to develop while working in research. The YMOY competition is a wonderful opportunity for young researchers to flaunt this skill. This was truly evident at the competition this year, as all the presentations were of an outstanding calibre.
This award does not just belong to me, but should be shared with my PI, Joan Geoghegan, who is, without a doubt, the best supervisor anyone could ask for. And of course, thanks to everyone in Moyne Institute in Trinity College Dublin for their constant support, encouragement and friendship.
Finally, thank you so much to the Microbiology Society for this award, and for continuously giving early career researchers a platform to showcase their research and abilities. And bualadh bos (as we say in Ireland) for adapting this conference to the virtual world! "


The second prize was jointly awarded to Thomas O'Brien from the University of Cambridge, UK and Emily Warman from the University of Birmingham, UK.
Thomas' talk was on 'In vitro recapitulation of the polymicrobial community associated with cystic fibrosis airway infections', and Emily's on 'Discovering new properties of bacterial promoters'.

The Society congratulates all of the finalists, and thanks everyone who took part in the competition.
Sir Howard Dalton is a past President of the Society and the competition is named in his honour to recognise his service to science. The Young Microbiologist of the Year competition recognises and rewards excellence in science communication by a Society member who is a postgraduate student or postdoctoral researcher, having gained their PhD in the last two years.