Annual Conference 2020 session suggestions
14 December 2018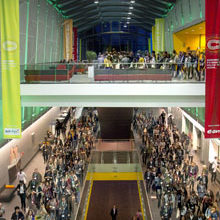 The deadline to submit session suggestions for Annual Conference 2020 is Wednesday 19 December 2018.
Annual Conference 2020 will be taking place in our 75th anniversary year, at the EICC in Edinburgh, UK.
If you have an idea for a session, from any field of microbiology, that you would like to be included in our Annual Conference 2020 programme, submit your proposal by Wednesday 19 December. If your suggestion is accepted, the Scientific Conferences Committee (SCC) will appoint experienced session organisers to finalise the session programme.
The SCC meets once a year to consider all suggestions submitted. More information, as well as the suggestion form can be found on the Annual Conference sessions page of the website.