Celebrating International Women's Day
08 March 2019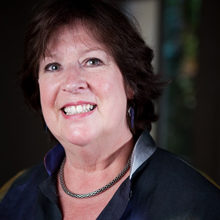 This International Women's Day we celebrate the women past and present who have helped to shape the Society by leading our efforts to advance the understanding and impact of microbiology by connecting and empowering communities worldwide.
The Microbiology Society has had a long history of women in leadership. Our second President, the bacterial metabolism pioneer Marjory Stephenson, was the first woman to play a key role in the Society, and since she was elected in 1947, many women have led our work. Earlier this year, Professor Judith Armitage FRS became our third woman President. Professor Armitage has long been a leader in her field of bacterial physiology and, as such, is a member of the European Molecular Biology Organization (EMBO), a Fellow of the American Society of Microbiology (ASM) and the Royal Society of Biology, and was elected a Fellow of the Royal Society in 2013.
A former President of the Society, Professor Hilary Lappin-Scott OBE, was the Chair of a working group which produced our first Equality and Diversity policy statement in 2013, aiming to redress the gender balance of participants in Society activities. Professor Lappin-Scott has been a champion of women in science throughout her career, winning a WISE Hero Award in 2016 and being awarded an OBE in 2018 for her efforts to advance the cause of women in science in engineering. Since the introduction of the policy statement, the gender balance of our activities has become more reflective of the wider microbiology field and conscious efforts are made to consider the whole pool of candidates available to be invited to participate in Society activities.
Another essential role at the Society is that of the General Secretary – one of the three Officers who are instrumental in supporting the deliberations and decision-making of Council. This year is the final year for Professor Maggie Smith to serve her term as our General Secretary – a term that, amongst many other things that ensure the smooth running of the organisation, has seen an overhaul of our Prize Lecture nominations process to make it easier to nominate outstanding microbiologists, and the appointment of many key roles on Council.
The leadership of the Society is not limited to its Council and Committees. Having inspirational leaders in our activities helps us to increase their reach. Professor Jo Verran has successfully led a wide range of activities to improve public understanding of microbiology by bringing the arts and science together, and has been instrumental in much of the Society's education work. Professor Laura Bowater is this year's Peter Wildy Prize winner, in recognition of her concerted efforts to engage the public with her work, particularly in the field of AMR. Professor Bowater was heavily involved in the Society's Antibiotics Unearthed project, supervising a PhD student who has been investigating the citizen science aspect of the programme.
Our Annual Conference is organised by our Divisions and the Scientific Conferences Committee. During her term as the Chair of the Scientific Conferences Committee, which ended in 2017, Dr Karen Robinson oversaw huge developments of and milestones for our Annual Conference and meetings programme including the largest ever Annual Conference in Edinburgh in 2017, greater inclusion of early career microbiologists in the event, and the roll out of our Focused Meeting series which continues to go from strength to strength. Her sensitive approach to decision-making helped evolve the meetings programme into essential opportunities for microbiologists across the discipline to network, share their research and collaborate.
We have recently had many accomplished women leading our journal editorial boards. Editors-in-Chief Dr Tanya Parish and Dr Kalai Mathee have overseen a period of significant development of both Microbiology and Journal of Medical Microbiology, respectively, and last year Professor Jodi Lindsay, Chair of the Publishing Committee, launched our new pop-up journal XAMR, to promote cross-disciplinary work on antimicrobial resistance, in an effort to tackle a significant global challenge. Earlier this year, Professor Kat Holt became the Editor-in-Chief of Microbial Genomics, continuing the leadership of the relatively new journal as a home for an international community of microbial genomics researchers. Having been involved in the journal from its launch, Professor Holt will ensure that the journal continues to be the place to publish new methods and applications.
In 2016 the Society established the Early Career Microbiologists' Forum to bring the voice of early career researchers to everything we do. The Forum's first Executive Committee was ambitious and driven, setting the scene to influence the Society's work for many decades to come. Current Publishing Representative, Dr Helina Marshall said "I feel that being a member of the ECM Forum has taught me a number of valuable skills that have given me the confidence to take on further leadership roles within my institution. I am proud to be part of an organisation that includes women at all levels. It's great that we celebrate International Women's Day within our Society, as the progression of our field relies on harnessing talent and diversity in research and reminds us that women play critical roles in Microbiology and that we should seek to strengthen their participation."
These are just some of the women who lead and have led the work of the Society. They are joined by so many more members who help us to drive our work to achieve our vision of a world in which the science of microbiology provides maximum benefit to society.
We are fortunate to represent a wealth of scientists from many backgrounds working across the diversity of microbiology, in terms of microbes, techniques and sectors. The Society is committed to creating and encouraging a diverse and inclusive culture within our membership and the microbiology community, so if you're interested in getting involved, check out our current opportunities today – there's something for everyone.
---
Image: Courtesy of the Royal Society.