Fifth anniversary of UN Sustainable Development Goals
24 September 2020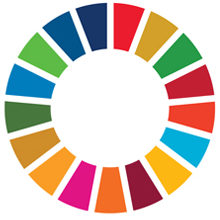 The 27 September marks the fifth anniversary of the launch of the UN Sustainable Development Goals (SDGs).

The SDGs are a collection of 17 interconnected goals and 169 associated targets adopted by all Member States of the United Nations to address global economic, social and environmental challenges and achieve a more sustainable future by 2030. Progress is being made in many areas but with just 10 years to go, the UN is calling for a 'Decade of Action' to accelerate sustainable solutions and to address the world's biggest challenges.
Microbiology impacts many of the SDGs in different ways, and to mark the 75th anniversary of the Microbiology Society, we are undertaking an ambitious project titled 'A Sustainable Future', to demonstrate the value and raise the profile of microbiology in addressing the SDGs.
As part of the 'A Sustainable Future' project, we held a series of virtual focus groups, which brought together over 100 microbiologists and representatives from various stakeholder organisations. The aim of these groups was to discuss the role of microbiology in transitioning to a more circular economy, addressing the threat caused by antimicrobial resistance, and achieving healthier soils. The focus group discussions have provided invaluable insights that will serve to inform a policy report and a set of recommendations about the ways microbiology can contribute to achieve a more sustainable future.
As a short introduction to the focus groups, we spoke with Professor Paul O'Toole (University College Cork) and Dr Max Paoli (World Academy of Sciences) about how microbiology can contribute to achieving the SDGs, how they got involved in working on sustainability, as well as the importance of including sustainability in the academic curriculum.
To highlight the vital role microbiology is playing in delivering on the SDGs, we have also been working with members and external experts that specialise in the fields of antimicrobial resistance, soil health and the circular economy, to showcase their research by publishing case studies on our website. Exciting new initiatives have been highlighted, including research focused on understanding soil carbon storage in tropical forests, using bacteria to develop sustainable infrastructure and discovering novel antimicrobials in churchyard lichens.
We are still seeking new case studies that will be showcased on our website, promoted on social media, and may also be edited for inclusion in our final policy reports. Please email [email protected] for more information.
Find out more about the Society's 'A Sustainable Future' project on our website. You can also follow us on Twitter using the hashtag #MicroGlobalChallenges.