Fleming Showcase five-minute thesis profile: Anna Yakovleva
18 November 2020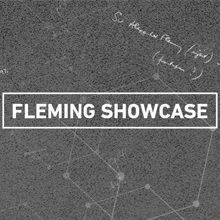 In celebration of the Microbiology Society's 75th anniversary, 'Why Microbiologists Matter: a digital celebration of the journeys of our members' will include a Fleming Showcase. Last year, we launched a call for abstracts from final-year PhD students (and those within one year of completion) to take part in a series of five-minute thesis slots at our Fleming Showcase event. This week we hear from Anna Yakovleva from the University of Cambridge, UK.
Our Fleming Prize, named after founding member and first President of the Society, Sir Alexander Fleming FRS, is awarded each year to an early career researcher who has achieved an outstanding research record within 12 years of being awarded their PhD.
The Fleming Showcase will be a celebration of outstanding science in recognition of the legacy of past Fleming Prize winners and will demonstrate the impact of both established and up-and-coming scientists in addressing important challenges. The day is organised by a committee of Fleming Prize Winners, chaired by Sir Paul Nurse FRS and will take place between Monday 23 afternoon and all day Tuesday 24 November 2020.
Anna Yakovleva (University of Cambridge, UK)
After graduating with a degree in biochemistry from King's College London, Anna joined the Calicivirus Group at the University of Cambridge as a PhD student under the BBSRC Doctoral Training Partnerships programme. Her research aims to develop thermostable vaccines which hold the potential to lower vaccine associated costs, and in turn increase access to vaccination programmes around the world.
"Increasing access to medicines is important in addressing health inequalities. This is the aim behind my doctoral research looking into vaccine instability. Yet the journey doesn't end in the lab - I believe field work and policy research will ensure that the problem is solved sustainably."
Throughout her time at Cambridge, Anna has led student teams in research projects addressing global health policy via the student-run think tank Polygeia, first as an editor and currently as President. Anna's work has been recognised by the Kathleen Hall Prize from the British Federation of Women Graduates. In the future, Anna aims to tackle global health inequalities through innovative laboratory, field, and policy work.
We asked Anna what presenting at the Fleming Showcase event meant to her:
"The Fleming Showcase is a celebration of the Society, the work of scientists which has shaped the world today, and the future of scientific advancements in addressing global challenges. The opportunity to participate in this event is very special to me and I am excited to share my doctoral research with the community."
---
Find out more about the Fleming Showcase event and register your place on our website.