Helping us unlock potential: Jo Verran's story
28 June 2022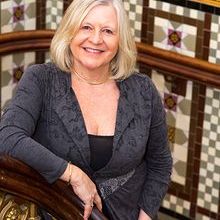 Professor Jo Verran, Honorary Member of the Microbiology Society who established the Society's Outreach Prize, chose to donate to the Unlocking Potential Fund to continue to support mid-career members working within education.
Jo Verran's research focuses on the interactions occurring between micro-organisms and inert surfaces. Working with engineers, chemists, polymer technologists and more, the interdisciplinary work aims to develop surfaces that might affect microbial attachment, removal and/or biofilm formation. "The applications of this work are significant, and I published findings in journals related to dentistry, water microbiology, food hygiene and biodeterioration as well as 'straightforward' microbiology journals," Jo explains.
Jo was also heavily involved in teaching undergraduate microbiology, through a range of novel approaches, and later used these skills to develop a series of science communications activities. Now retired, Jo holds Emeritus Professor status at Manchester Metropolitan University and continues to work with colleagues through mentoring, student supervision, research collaboration and public engagement.
Jo joined the Microbiology Society, then known as the Society of General Microbiology (SGM), during the first year of her PhD and maintained membership throughout her career. "I found the Society especially supportive during my mid-career when I began to think that there should be more support for microbiology educators, particularly since I spent so much time teaching.
Later, Jo joined the Education Committee and became its Chair in the early 2000s and continued working on Council as Communications Lead until around 2016. "The Society really gave me an anchor and its belief in my work supported my development of microbiology teaching as something essential, stimulating and innovative," Jo shares.
Jo received several small grants from the Society supporting her public engagement activities and also funding for a PhD student to develop school learning materials. "It was challenging to make such a PhD sufficiently rigorous, but the student can now claim several publications, presentations, educational resources, and an outreach prize from the Society. He is also a Society committee member and continues to work with me."
When reflecting on her experience with the Society, Jo explains how the Society impacted her own career, "I was so pleased to be made an Honorary Member of the Society. Throughout my career, the Society provided professional support, excellent conferences, funding – and a sense of what microbiology is about; not just the science, but the people too. I hope that my donation will support others in their career journey."
Jo hopes to see the Unlocking Potential Fund support mid-career members working in education, "I established the Outreach award, and I was also delighted when the Peter Wildy award was launched. So, I suppose continued support for education-focused, mid-career staff would be useful – perhaps some sort of mentoring scheme, or external training."
"I think in anyone's career there comes a time when you hit a 'glass ceiling', and you have to decide whether or not you want to 'go for promotion' or stay where you are. This can be particularly demoralising, and a real struggle to work through."
Jo believes it is essential to be a member of a professional society, such as the Microbiology Society. "You find others like yourself, or different from yourself, you have access to expertise, conferences, some funding, and you are part of something much bigger than your laboratory and your project. It is so important especially these days to maintain a high profile for microbiology."
Our members have a unique depth and breadth of knowledge about microbiology. The Microbiology Society's role is to help unlock and harness their potential. Join Professor Jo Verran today by donating to the Unlocking Potential Fund.
Our members have a unique depth and breadth of knowledge about microbiology. The Microbiology Society's role is to help unlock and harness their potential.