Last remaining exhibition stands available at Annual Conference 2020
28 November 2019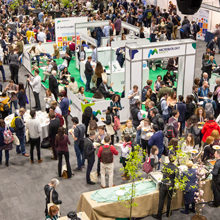 The Microbiology Society will be celebrating its 75th anniversary in 2020, and for one time only, will see the conference programme extended to five days to include an additional high-profile Fleming Showcase day with Sir Paul Nurse taking place on 30 March. It will be a prestigious event celebrating the breadth of microbiology research, with a programme designed to demonstrate the impact and potential of microbiology to address important global challenges.
The exhibition itself will run over three and a half days (31 March to 3 April). If your company manufactures, supplies or provides services to the microbiology sector this is a great opportunity to showcase your products and services to a targeted network.
Attracting over 1,600 delegates from senior researchers, academics, PhD students, as well as those from other scientific institutions, this is an event not to be missed. Some of the confirmed exhibitors include New England Biolabs, Infectious Diseases Hub, Luminex, BioSense Solutions and Labtech International.
With over 80% of stands already sold we anticipate the remaining stands will sell quickly.
To get a flavour of what Annual Conference 2020 can offer you, watch the highlights video from Annual Conference 2019 below.
Find out more about our exhibition and sponsorship opportunities on the website or get in touch. Please contact Sîan Taylor: [email protected] for more information.