Microbiology Society nominates Marjory Stephenson to be on the new £50 note
14 December 2018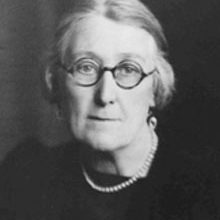 The Microbiology Society has nominated Marjory Stephenson to be on the new £50 note, in the Bank of England's nomination process which is closing today.
The Bank of England would like to feature someone who has contributed to science when they issue the new note.
Marjory Stephenson, MBE, FRS, was a chemical microbiologist, one of the founding members of the Microbiology Society (formerly Society for General Microbiology) and one of the first two women elected a Fellow of the Royal Society in 1945. She was unanimously elected as the Society for General Microbiology's second President in September 1947 at a time when few women held similar positions.
In 1953 the Society established the Marjory Stephenson Prize Lecture in her memory. The prize is awarded annually to an individual who has made exceptional contributions to the discipline of microbiology.
The Bank of England will announce their chosen person for the £50 note in 2019.