Prostate cancer biopsies show evidence of Cutibacterium acnes infection
10 June 2019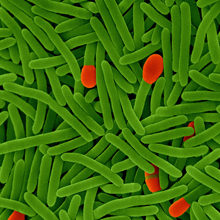 Chronic infection with the bacteria that causes acne could potentially increase the risk of developing prostate cancer, researchers have found.
Scientists at the Northern Ireland Centre for Stratified Medicine, Ulster University, in collaboration with colleagues at Queen's University, Belfast, and Belfast Health and Social Care Trust, found the bacterium was significantly enriched in prostate cancer tissue.
Cutibacterium (previously Propionibacterium) acnes is best known for its role in the development of the common skin condition acne. But it can also cause other serious infections associated with prosthetic joints and cervical discs.
To investigate the link between C. acnes and prostate cancer, a research team headed by Dr Andrew McDowell developed a quantitative PCR assay to detect C. acnes in tissue biopsies taken from the prostate.
They tested 192 biopsy samples from 53 patients with prostate cancer, and 60 patients whose biopsies were normal. They found 35% of patients with prostate cancer were positive for C. acnes in their samples, compared to only 8% of normal biopsies. After adjustment for age, this indicates that men with P. acnes had an approximately 6.5-fold increase in odds of a prostate cancer diagnosis; which is the same as having one close relative, such as a father or brother, with the condition.
Since C. acnes appears a highly specific biomarker for the presence of cancer in prostate tissue (92% specificity), routine detection of the organism in biopsies might prove useful alongside current methods of prostate cancer screening. Also, the detection of C. acnes in cancer-free biopsies may suggest more frequent monitoring of an individual for future development of the disease.
Dr McDowell commented; "These results are exciting, and if C. acnes infection of the prostate is ultimately proven to be an important pathogenic factor in prostate cancer then eradication therapies may help to reduce prostate cancer risk within the male population."
Dr McDowell's group are now examining the carcinogenic effects of C. acnes on prostate cells, and developing non-invasive ways to test for infection.
Prostate cancer is the most common cancer in males and kills approximately 11,000 men in the UK each year. Understanding the warning signs of cancer is vital for doctors to identify the disease early and begin treatment to ensure the best outcomes.
Dr McDowell will present his data during the Microbiology Society Focused Meeting Anaerobe 2019: Changing perceptions of anaerobic bacteria; from pathogen to the normal microbiota and back. His flash poster presentation, 'Propionibacterium (Cutibacterium) acnes infection of the prostate gland as a risk-factor and biomarker of prostate cancer?' will be on Friday 14 June at the Jurys Inn Cardiff.
---
Image: Dennis Kunkel Microscopy/Science Photo Library.