Registration deadline approaching for Candida and Candidiasis 2021
05 March 2021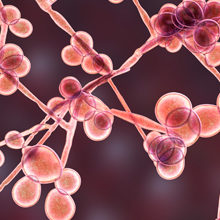 The registration deadline to attend the Microbiology Society's first Focused Meeting of the year, Candida and Candidiasis, is Friday 12 March.
Register for this event, which will be taking place online from 21–27 March, following the postponement of the in-person meeting that was scheduled to take place in Montreal, Canada in April 2020.
The event will provide a vital online forum for the Candida research community to strengthen relationships, form collaborations and present the latest advances and ideas. The meeting programme includes sessions covering a broad range of topics, such as the diagnosis and treatment of Candida infections, antifungal drug resistance, the genomics and epidemiology of the Candida clade, the molecular mechanisms that underpin Candida pathobiology and the immunological responses of the host to the fungus.
Members get heavily subsidised registration fees for Annual Conference, Focused Meetings and other Society events – both online and in-person. Join now to enjoy these discounts and many other opportunities that are designed for microbiologists at all stages of their career.
Follow updates on Facebook and LinkedIn, and join the conversation about the event on Twitter (@MicrobioSoc) using the hashtag #Candida2021.