Skin bacteria which are usually harmless have the potential to switch and cause disease
28 May 2019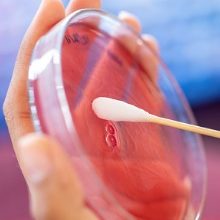 According to researchers, skin bacteria which are usually harmless could cause dangerous infections following knee- and hip-replacement surgery.
The research, conducted by Associate Professor Holger Brüggemann from Aarhus University, Denmark, and Professor Bo Söderquist from Örebro University, Sweden, investigated certain skin bacteria and their potential to cause disease.
The investigated bacterium, called Staphylococcus saccharolyticus, is part of the normal skin microbiome and was found on the skin of around 20% of the people tested.
Most staphylococci found on the skin, including S. saccharolyticus, are coagulase-negative and are usually less pathogenic than other staphylococci, such as S. aureus. There is concern due to the increasing levels of antimicrobial resistance in skin-resident staphylococci.
According to Associate Professor Brüggemann, several coagulase-negative staphylococci have 'double personalities' and can switch from being commensal to being pathogenic. In the case of S. saccharolyticus, this usually harmless microbe can cause infections of prosthetic joints and has potential to cause tissue infections.
During their research, the group sequenced the genomes of S. saccharolyticus isolated from the skin of volunteers and found decay within the genomes. According to Associate Professor Brüggemann, this genome decay was unexpected. He said, "The excessive genome decay seen in S. saccharolyticus was surprising to us. This phenomenon has not been described to such an extent in other staphylococcal species so far."
Genome decay usually occurs when a microbe is adapting to a new environment or niche. During this change in environment, certain genes are no longer useful. These genes are known as pseudo-genes and are found in high frequencies in some pathogenic bacteria.
The findings suggest that S. saccharolyticus underwent a tight interaction with the human host; its growth is dependent on amino acids provided by the host, and the bacterium turned into an anaerobe. Associate Professor Brüggemann hopes to investigate what has led to the adaptation of S. saccharolyticus. To do this he will: "determine the physiological properties of the species and focus on identifying the exact location of this organism on/in human skin and its interactive properties with other members of the skin microbiota."
"Another important task from the clinical perspective is to determine the exact role of this bacterium in causing implant-associated infections, as well as its frequency. We are currently identifying adhesive properties, i.e. its biofilm-causing potential and assessing the inflammation-inducing properties of S. saccharolyticus," Associate Professor Brüggemann said.
Associate Professor Brüggemann will present his data at the Microbiology Society Focused Meeting Anaerobe 2019: Changing perceptions of anaerobic bacteria; from pathogen to the normal microbiota and back. His talk, 'The anaerobic skin colonizer Staphylococcus saccharolyticus, a possible agent of prosthetic joint infections, exhibits excessive genome decay' will be at 10:45 on Friday 14 June at the Jurys Inn Cardiff.
---
Image: iStock/Sinhyu.