Society Conference Grant for Annual Conference 2023 is now open
02 February 2023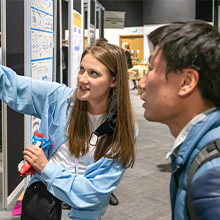 Applications for the Society Conference Grant to support members attending Annual Conference 2023 are now open, for two weeks and close on Thursday 16 February (midnight GMT).
This year, awards of up to £380 are available to Full Concessionary and Postgraduate Members who have had their abstracts accepted, for poster and oral presentations alike. Grants will act as a contribution to full attendance costs and can help to cover registration, travel and accommodation expenses.
An additional £500 is available to support the attendance of members requiring caring costs and who would otherwise find attending the Conference difficult. This includes members returning from maternity or paternity leave, those requiring childcare or a carer to attend with them or those with any other similar barrier to attendance.
Members who are not eligible for a Society Conference Grant but need support to present their work at Annual Conference may be eligible for a Travel Grant.
If you have any questions, please contact [email protected].