Society Conference Grants for Digital Events in 2021
22 February 2021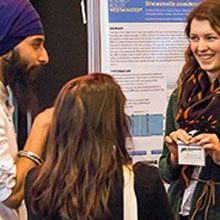 This year, Society Conference Grants will be available to support eligible members wishing to attend Annual Conference Online 2021 or a digital Focused Meeting. Members are invited to apply for funding to cover registration fees associated with event attendance.
To support early career researchers to present their work, funds will be offered to Full Concessionary and Postgraduate members (UK and ROI*) who have had their abstracts accepted. Funds of up to £22 are available for poster and talk presenters alike. This grant is also available to Full Concessionary members working in a research capacity, and retired members who would like to support early career delegates.
Grants for each event will open for a two-week period. Deadlines for each meeting's grant can be found on our website.
Additional support is available to members requiring caring costs and who would otherwise find attending these meetings difficult. This includes members returning from maternity or paternity leave, those requiring childcare or a carer to attend with them or those with any other similar barrier to attendance.
To find out more and apply, visit the Society Conference Grant webpage. For any questions, please contact

[email protected]

.
*Full Concessionary and Postgraduate Members who are presenting but are not resident in the UK or Ireland should apply to the Travel Grant scheme for support.