The Microbiology Society launches the 'Knocking Out AMR' project
17 October 2023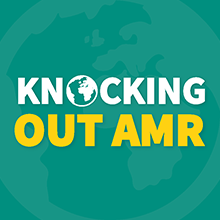 The Microbiology Society is pleased to announce the launch of the 'Knocking Out AMR' project, supporting feasible, effective solutions to AMR through international, cross-disciplinary collaboration.
The project aims to bring together everyone who works in antimicrobial resistance (AMR), whoever they are and wherever they are.  If you work in AMR, register your interest on our website to keep up to date with opportunities to get involved.
Register your interest
Antimicrobial resistance (AMR) is one of most urgent global threats to our healthcare systems, economies, the environment and animal health. Microbiologists in academic, industrial and clinical settings worldwide are at the forefront of developing innovative solutions to tackle AMR. We believe now is the time to act and focus on an interdisciplinary, solutions-driven approach in a 'One Health' context.
We have identified three priority solutions for the project:
Therapeutics and Vaccines
Diagnostics and Surveillance
Policy Engagement
Find out more about the priority solutions and objectives on our website.
If you are interested in opportunities for organisations to collaborate with the Microbiology Society, please email [email protected].
To find out about the latest updates, follow us on Twitter @MicrobioSoc using the hashtag #KnockingOutAMR.