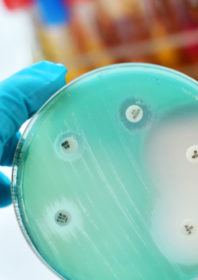 To view and print this document, you will need to download Adobe Acrobat Reader.
A Sustainable Future: Antimicrobial Resistance Policy Report
17 December 2020 publication
Tackling the issue of AMR aligns with many of the SDGs; specifically, those related to poverty (SDG 1), human health (SDG 3), food security and agriculture (SDG 2), clean sanitation (SDG 6) and economic growth (SDG 8). Microbiology is at the forefront of developing novel antimicrobial compounds, vaccine research, providing sustainable solutions for treating livestock and crop diseases, unravelling disease transmission patterns across ecosystems and informing which antimicrobials should be prescribed when. Therefore, the microbiology community is pivotal for AMR research and can have a major influence in this area, which can contribute to delivering the SDGs.

The current landscape of AMR research in the UK and Ireland is highly active and expansive. However, the challenge is significant and some aspects of the research must be augmented in order to provide new solutions to infections caused by antimicrobial-resistant organisms. Whilst basic research is fundamental to understanding the how and why, the field also needs to be more applied, aiming to translate findings into new interventions through enhanced interactions with other disciplines and industrial partners.
---
Image credit: iStock/jarun011