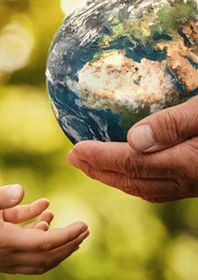 To view and print this document, you will need to download Adobe Acrobat Reader.
A Sustainable Future: Project Statement
17 December 2020 publication
To mark the 75th anniversary of the Microbiology Society, we embarked on an ambitious project that demonstrates the value and raises the profile of microbiology in addressing the world's biggest challenges. While the broader role of microbiology was taken into consideration, the 'A Sustainable Future' project focused on three areas where the discipline's contribution is particularly significant. These include antimicrobial resistance (AMR), which has been described as one of the biggest threats to humanity; the circular economy, a system which aims to maximise the efficient use of the world's finite resources; and soil health which is essential for feeding the world's growing population.
This year, the Covid-19 pandemic has posed unprecedented risks and challenges for governments and citizens alike. However, it has also provided humanity with an opportunity to effect profound social and environmental change, and highlighted the importance of having a world class research and innovation base able to rise to future challenges. Bringing together Microbiology Society members and other stakeholders, this project reflects on the greatest threats facing future generations. These threats range from the emergence and spread of drug-resistant pathogens to the impacts of global waste production and the effects of climate change on the ecosystem. Importantly, this project also showcases the positive effects that microbes have on mankind directly, as well as on human and natural environments.
The need for sustained microbiology research and innovation in AMR, circular economy and soil health is imperative to help deliver the SDGs, particularly those related to poverty and hunger (SDGs 1 and 2), economic growth (SDGs 7 and 8), production and consumption (SDGs 2, 9, 11 and 12), good health and wellbeing (SDG 3) and the environment (SDGs 6, 13, 14 and 15). Better collaborative efforts between academia and industry, as well as governmental, regulatory and societal organisations will be essential in the creation and adoption of evidence-based policies that will be needed to ensure a sustainable future for the generations to come.
---
Image credit: iStock/Nastco