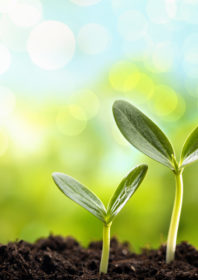 To view and print this document, you will need to download Adobe Acrobat Reader.
A Sustainable Future: Soil Health Policy Report
17 December 2020 publication
Micro-organisms improve crop productivity and sustainable agriculture (SDG 2: no hunger). They play a role in pollution bioremediation, promotion of soil formation, prevention of soil erosion (SDG 6: clean water and sanitisation; SDG 15: life on land) and in carbon sequestration and reduction of greenhouse gas emissions (SDG 13: climate action). Microbes can also be used for improved control of pollutants, pathogens and nutrients (SDG 2: good health and well-being). Achieving soil health is not only relevant to agriculture, but rural and urban societies alike will benefit as better-quality land becomes available for use, while natural environments will benefit from improvements in microbial biodiversity.

The EU has raised soil health as one its top 5 priorities and many global initiatives are emerging in the area of soil protection. The UK should take advantage of this increased profile to consolidate active communities working together to improve the uptake and development of new sustainable land management practices.
---
Image credit: iStock/Voren1