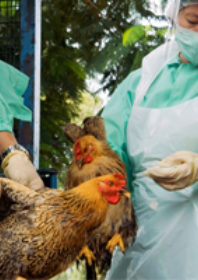 To view and print this document, you will need to download Adobe Acrobat Reader.
Emerging zoonotic diseases
22 June 2015 publication
This policy briefing outlines the increasing public health and economic threats posed by emerging zoonotic diseases. These are infectious diseases that can be transmitted between vertebrate animals and humans, which are recently identified, or increasing in incidence or geographic range. Examples include Ebola, avian influenza and West Nile virus. The briefing highlights the importance of microbiology research for mitigating these threats, within a 'One Health' approach, which sees collaboration across human and animal science, health and policy.