Introducing MiSAC
Issue: Engaging Microbiology
17 May 2022 article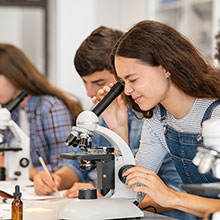 What is MiSAC?
MiSAC is the Microbiology in Schools Advisory Committee. It was founded in 1969 (see Microbiology Today, November 2019, page 190) to promote the teaching of microbiology in schools and colleges and is a recognised authority on the safe use of micro-organisms in educational settings. MiSAC is sponsored by several learned societies (currently the Microbiology Society, the British Mycological Society and The Quekett Microscopical Club) and several educational organisations (SSERC, NCBE and CLEAPSS), and its membership comprises volunteers from each of the sponsor organisations (Dr Tansy Hammarton is the Microbiology Society's current representative on MiSAC), in addition to other experts.
What does MiSAC do?
MiSAC provides a wide range of resources, activities and advice to promote and enhance microbiology teaching and the safe use of micro-organisms in schools and colleges. Resources developed by MiSAC can be downloaded from its website. These range from briefing notes on particular aspects of microbiology to resources for laboratory practicals (including the Practical Microbiology for Secondary Schools booklet developed by MiSAC and funded by the Microbiology Society) to documents providing information and advice on safety and good laboratory practice. MiSAC also provides links to other related organisations and resources. In 2019, to recognise MiSAC's 50th anniversary, a collection of more than 30 Anniversary Articles, written by experts and discussing a wide range of microbes and their activities, was published online. The collection was edited by Dr Margaret Whalley, a member of the British Mycological Society, and Microbiology Society member Dr Rachel Exley, then the Society's representative on MiSAC. Some articles have subsequently been translated into Swedish to satisfy international interest!
Perhaps the most popular activity MiSAC organises is an annual competition, aimed at secondary school pupils, that is closely linked to the National Curriculum and attracts up to 2,000 student entries a year. Similar competitions have also been organised through MiSAC in Thailand and China. Pupils in two age categories (KS3 and KS4, or S1/2 and S3/4 in Scotland) are encouraged to produce informative and visually stimulating posters or web pages to inform teenagers about topical areas of microbiology. In recent years, these have included how microbes help in farming, how vaccines work and are used to control infectious diseases in children, and fungi and climate change. All entrants receive a certificate, and winning students and their schools receive a share of the £1000 prize money. The theme of the 2022 competition is 'Microbes made my lunch', with students being encouraged to produce a poster aimed at teenagers on a catering or food microbiology college course.
MiSAC also has an email helpline for teachers and technicians in schools and colleges, and answers queries and provides advice on an ad hoc basis. Responses to helpline queries are published on the MiSAC website as an additional resource.
Members of MiSAC also give talks, either to individual organisations on request or at conferences, and contribute to microbiology training courses and workshops. Over the years, MiSAC members have advised the government and organisations such as the Association for Science Education on the safe use of micro-organisms in schools, and have interacted with exam boards, science suppliers, publishers and industry.
Finally, MiSAC's reach has been expanding internationally, particularly to countries in South-east Asia. For the past decade, MiSAC has collaborated, through Dr Margaret Whalley, with the Thai Institute for the Promotion of Science and Technology Teaching (IPST) and, more recently, with UNESCO's South-east Asian Ministers of Education Organisation (SEAMEO) STEM-ED, to develop microbiology education programmes for secondary schools. The current programme is highly topical, aiming to raise awareness of the importance of vaccination by running online microbiology workshops for teachers from SEAMEO's 11 partner countries. Teachers are then able to support their students to produce videos on the role of vaccines in disease control for a schools' competition.
How can MiSAC help me?
Practical lessons really enhance the curriculum and bring science to life for school and college students, but taking microbes into schools or working with them in classrooms potentially introduces health and safety risks, and legislation for schools is very different from legislation for research labs. The MiSAC website provides many useful documents in this regard. Only certain micro-organisms (which are all ACDP Hazard Group 1 organisms) are permitted in schools, so consult the Suitable and unsuitable micro-organisms list if planning any microbial practical work. Further, work with micro-organisms in schools falls under three levels depending on several factors, including the species used, the techniques being carried out and the age/experience of the pupils. These levels (1–3) are unrelated to the ACDP Hazard Groups or containment levels under which microbes are handled in research labs. Work that falls under Levels 2 or 3 requires technicians to be trained to Level 3 to prepare the resources required and will require the use of more specialised equipment (e.g. an autoclave) and disinfection procedures, so be sure to check what expertise and facilities are available in the school before you go. MiSAC has also produced a guide to risk assessment for work with micro-organisms in school, and a variety of tried and tested practical activities are available, which will help you plan your activities.
Other resources
If you are thinking about working with schools and colleges, you may also like to consider becoming a STEM Ambassador. This scheme provides generic training for working within educational settings, including safeguarding and health and safety training, provides insurance for Ambassadors carrying out STEM activities in schools, and can help link you with schools wanting assistance. There is also a huge range of resources freely available on their website. Finally, you may also wish to delve into the offerings of the online open access journal Frontiers for Young Minds. Articles are written by scientists for kids and are reviewed by kids aided by a science mentor to ensure they are suitable for the target age group – there is a vast array of articles on different microbes and the immune system to access.
Further reading
Microbiology Society. Practical microbiology for secondary schools; 2016.


Tansy Hammarton
Microbiology Society representative in MiSAC
---
Image: Ridofranz/iStock.