Focused Meetings June 2019
Issue: Metabolism, Health and Disease
07 May 2019 article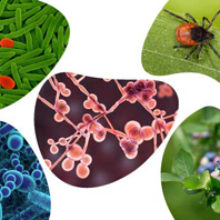 The first two Focused Meetings of this year's series will take place in June, but there is still time to book your place to attend. Both events will feature a programme of renowned speakers and showcase new and emerging research, while also offering valuable networking opportunities. Microbiology Society members can register at discounted rates and members also have access to Microbiology Society grant opportunities.



13–14 June 2019 | Jurys Inn Hotel, Cardiff, UK
Anaerobe 2019 is being held in Cardiff, where the UK Anaerobe Reference Unit is based, in association with the Society for Anaerobic Microbiology and the Welsh Microbiology Association. The meeting will provide insights into the current and future impact of anaerobic bacteria in human health and disease, addressing the implications of recent microbiota studies, as well as the continued threat of emerging and re-emerging anaerobic infection.
Anaerobic clinical microbiology remains a challenge due to specialist culture requirements, coupled with the increase in and spread of antimicrobial resistance. The normal human microbiota is primarily composed of anaerobic bacteria and has been recognised as a source of life-threatening anaerobic infection since the early days of microbiology in the late 1800s. More recent metataxonomic and metagenomic sequencing has extended interest in the potential role of the microbiota in a plethora of other aspects of human health, from obesity to mental health. In addition, the successful use of faecal microbiota transplants for the treatment of clostridial infection raises potential unchartered long-term consequences and possibilities.
Follow us on Twitter @MicrobioSoc using the hashtag #Anaerobe19.

26–28 June 2019 | County Hotel, Newcastle, UK
The British Yeast Group (BYG) Focused Meeting is the second event in the Society's 2019 programme and takes place in Newcastle.
Yeasts have been used extensively for over a century to explore fundamental aspects of living systems, and this meeting will focus on the theme of 'Discovery to Impact'. The programme will feature a range of keynote talks from invited speakers and will give early career yeast researchers the opportunity to present their recent research results through a series of posters and offered oral presentations covering the following topics: fundamental cellular processes, including metabolic cycles, chromatin biology, regulation of gene expression and control of quiescence; yeasts as disease models; pathogenic yeasts and biotechnological applications of yeasts.
Follow us on Twitter @MicrobioSoc using the hashtag #BYG19.
---
Images: Dennis Kunkel Microscopy/Science Photo Library.
Kateryna Kon/Science Photo Library.