Big Biology Day Cambridge: Human Microbiome Panel
Posted on November 1, 2016 by Andrew Day
Earlier this month, the Microbiology Society attended Big Biology Day Cambridge, an annual event that attracted over 2,000 families from the local area eager to learn about all things biological. The Society showcased the Antibiotics Unearthed project along with other learned societies as part of the Biology Big Top.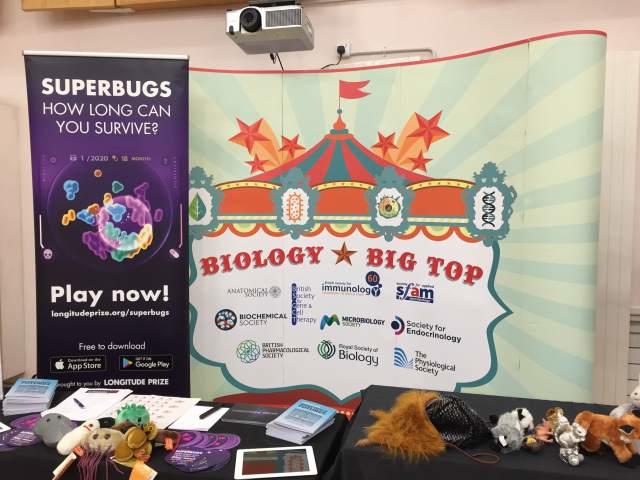 The Society also ran a panel discussion about the microbes that live in and on you, known as the human microbiome. Talks from the panel were varied, starting with Dr Marc-Emmanuel Dumas from Imperial College London, who opened with a broad overview of the human microbiome. Dr Hilary Browne from the Sanger Institute, Cambridge, spoke about the potential of the microbiome for curing disease using faecal transplants. The role and potential impact of the microbiome on obesity was discussed by Dr Michelle Beaumount from King's College London. After the presentations from the speakers, the audience got to ask the panel some of their questions.
The audience wanted to know if the microbiome stays the same or if it changes over time. Studies have shown that there are large changes in the microbiome in three stages of life: during infancy, adolescence and old age. While the microbiome is relatively stable in adulthood, the panel stressed that it does respond to changes in diet and where you live.
There was a lot of interest in faecal transplants, which have been used to cure infections and inflammation of the intestine. The process involves transferring the faeces from one person to another, and one audience member, quite reasonably, questioned why researchers decided to try this procedure in the first place. The panel referenced both ancient medical practices and the habits of many animals in the present day that consume their own faeces as inspiration for faecal transplantation.
After a discussion about influencing the microbiome using probiotics such as yoghurt drinks, the audience asked if any of them were in clinical trials. The panel said that they weren't aware of any and explained that probiotics tend to be regulated as food items rather than drugs, and therefore don't need the same level of testing before they can be sold.
The panel received questions from members of the audience representing all different age groups, highlighting the public interest in the microbiome. The Microbiology Society has identified the microbiome as a growing area in the public consciousness and the panel discussion is only part of our efforts to engage people about the potential benefits of this area of research, and the challenges it may need to overcome. Expert stakeholders are currently attending workshops to inform a briefing about the microbiome for policy-makers, while there are plans to hold microbiome-related sessions at the Annual Conference in 2017.