Microbe Talk: October 2016
Posted on October 28, 2016 by Benjamin Thompson
The National Emerging Infectious Diseases Laboratories (NEIDL) building in Boston is a high-tech facility for the study of emerging, and re-emerging, microbial diseases of humans and animals. The building, part of Boston University, is equipped up to Biosafety level 4 (BSL-4), allowing the researchers there to safely study dangerous viruses like Ebola or Nipah.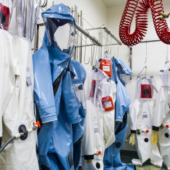 The facility hasn't had final approval to open the BSL-4 labs yet, which gave us the opportunity to go and have a look round, guided by Professor Paul Duprex, a Microbiology Society member and an Editor of our Journal of General Virology.
On the tour we got to meet the NEIDL's Director, Professor Ron Corley, who told us about the building's architecture and function, and talked with Dr Nahid Bhadelia who runs the facility's back-up medical programme.




Inside one of America's highest containment laboratories

Don't forget, you can subscribe to Microbe Talk on iTunes. You can also find us on Soundcloud and Stitcher.