Biology Summer School at Maynooth University
Posted on October 25, 2019 by Gerard Sheehan
During the week beginning 12 August 2019, a number of postgraduate students at Maynooth University ran a summer school for undergraduate students. Here, PhD student Gerard Sheehan discusses the activities that took place during the week and how it went.
The Maynooth University's Biology Summer School was established by postgraduate students to engage with undergraduate students, provide them with research experience, enhance their presentation skills and give them an overview of a broad range of biological topics. Postgraduate students also gained valuable skills as they prepared presentations about research-related issues, supervised students in the lab and organised the event and featured sessions.
The jam-packed week began with Professor Sean Doyle welcoming the students after registration and coffee, followed by a talk from Dr Rebecca Owens about her journey from secondary school to becoming a PI and lecturer. After this, PhD students Sarah Larragy and Hazel Dunbar led tours of the biology department's research labs, a section which students thoroughly enjoyed and where they were able to ask many questions about the department's research.
The first two days consisted of three sessions of talks relating to microbiology, biodiversity and agriculture and immunology. In the first session, PhD student Eoin O'Connor gave a lecture on the use of micro-organisms in the food industry, focusing on beer, wine, yoghurt, mycoprotein, and mushrooms. Next, I outlined the uses of conventional and alternative animal models in studying bacterial and fungal pathogens.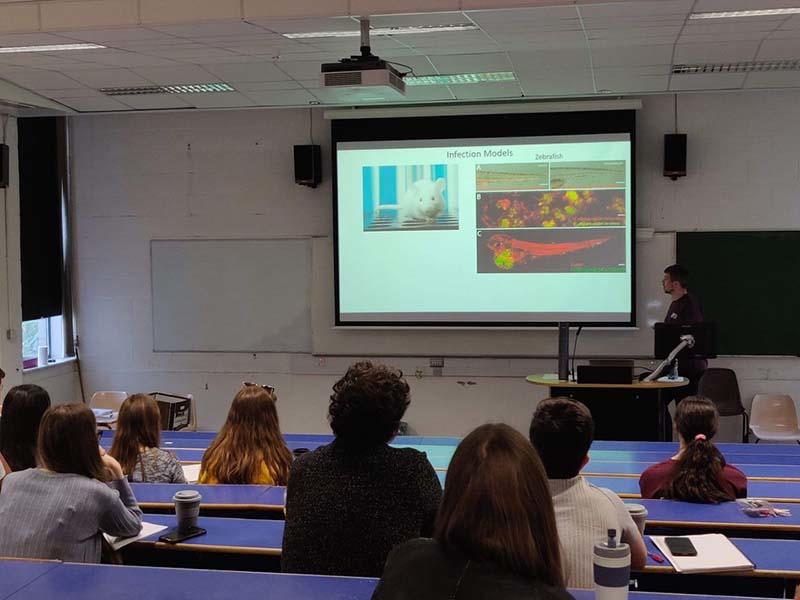 Tuesday began with a workshop on scientific writing under the guidance of PhD Student Anatte Margalit.
During the biodiversity and agriculture session, Sarah Larragy spoke about the importance of biodiversity for society and the economy with examples of different levels at which biodiversity can be studied. Following this, Merissa Cullen gave a lecture on the advantages and disadvantages of synthetic pesticide use, which covered why we use synthetic pesticides, their benefits and limitations – focusing on their effects on pollinators – and how to mitigate such effects through proper risk assessments.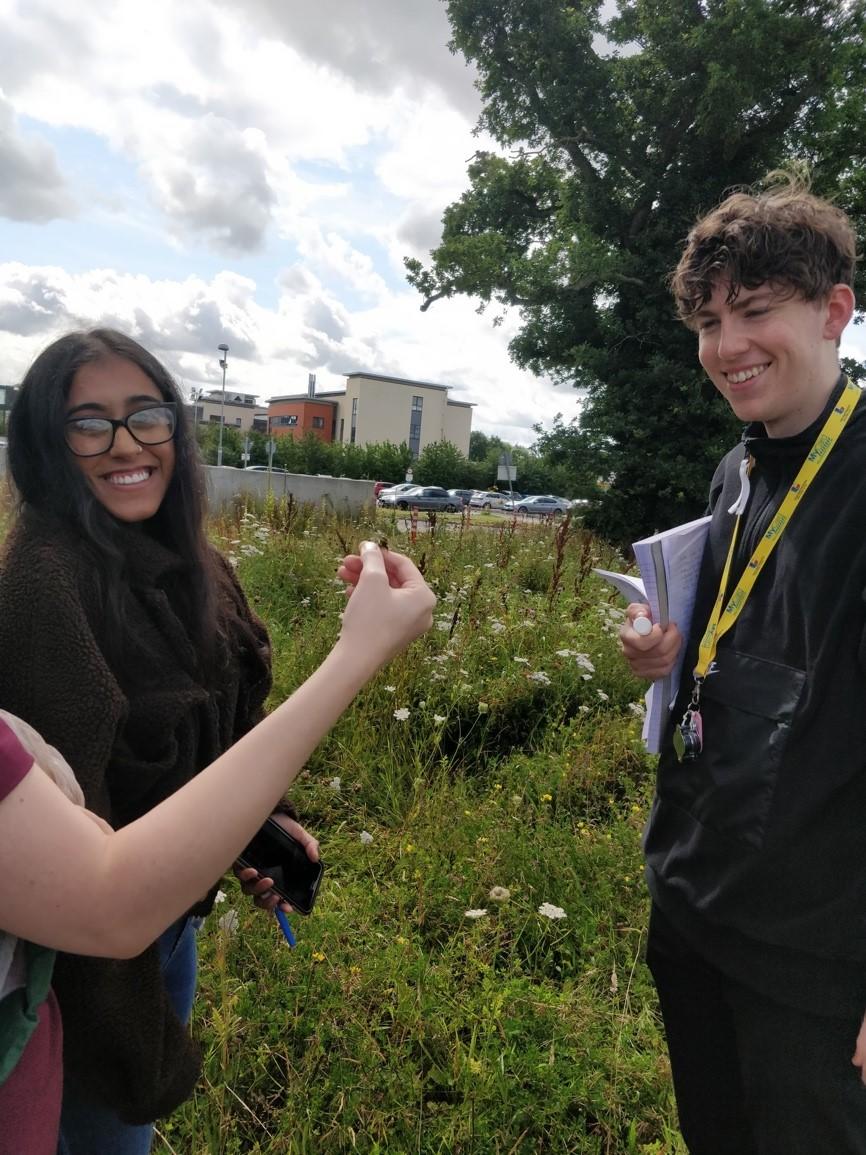 Next, the immunology session was led by Dr Lu Yang, Adam Dignam, Devlin Wall-Coughlin and Xinyuan Wang. It consisted of lectures on the different levels of immunological research, different research techniques, such as 2D and 3D cell culture, western blots and enzyme-linked immunosorbent assays (ELISA), and an interactive problem-solving workshop.
On Wednesday, Aimee Traynor and Eoin O'Conner gave their talk 'Life as a PhD student', which gave students an insight into how to secure PhD funding, what to expect in each year of a PhD, and the advantages and disadvantages of going through a PhD programme. After, students were assigned to their labs to do a two-day placement with their PhD student mentors. Students had the opportunity to work on diverse projects ranging from entomopathogenic nematodes, like threadworms, to fungal genetics and secondary metabolism.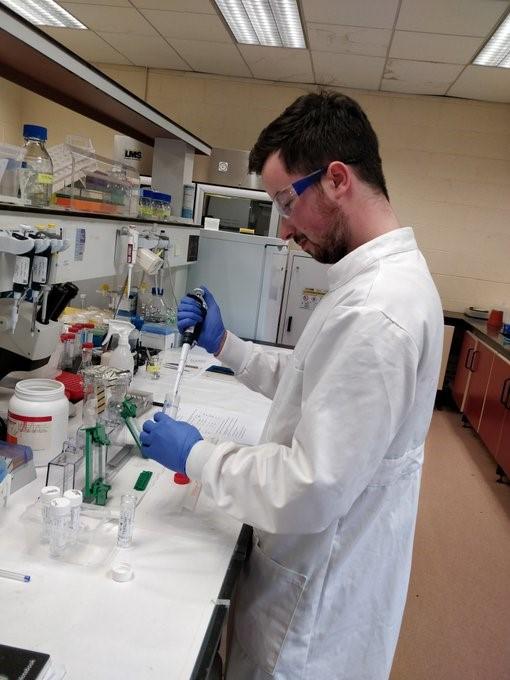 Friday started off with students giving five-minute presentations about their research topic, methods, and findings from their stint in the lab. We heard talks about Phythophora gonapodyides, a fungus-like eukaryote, or oomycete, found across the globe which causes root rotting in many important forest species and damages not only the economy but also ecosystems; Agaricus bisporus virus and how RNA technologies can allow its identification; and Armillaria mellea and the antifungal activity of its culture filtrates.
After the judge's deliberations, awards were assigned. Bukky Adebowale was awarded the Pathogens Award for her presentation on P. gonapodyides, Rebecca Hayden was awarded the Journal of Fungi Award for her talk on MVX virus in A. bisporus and Rachel O'Sullivan won the Department of Biology Award for her presentation on cryptic bumblebee species identification.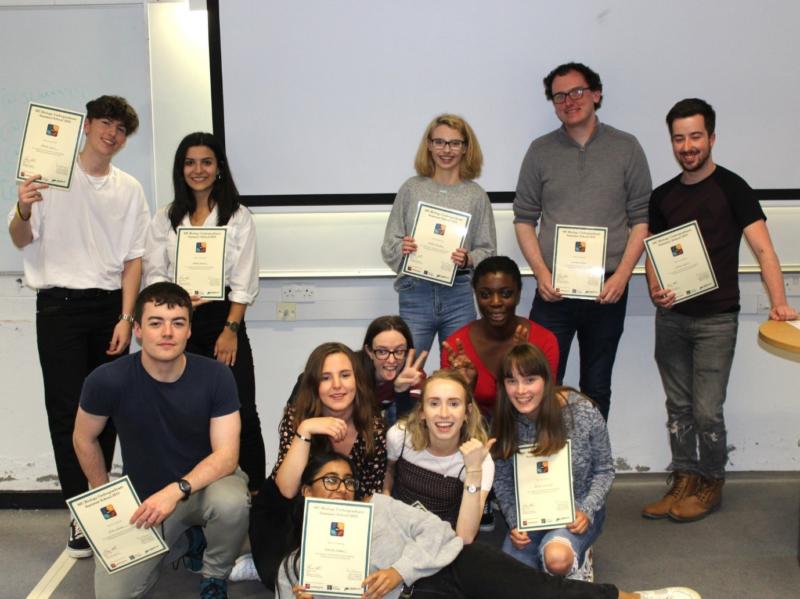 Check out all of the coverage on Twitter.