Bringing together different communities to answer common questions
Posted on November 13, 2019 by Andrea Giachino
On 31 July–2 August 2019, researchers from all over the world gathered in Newcastle for Designer Biology 2019 - the biannual conference of the Synthetic Biology community. As Microbiology Society Champions at the host institution for the event, Newcastle University, we were delighted to be part of the organising committee.
Designer Biology 2019 encompassed three days, packed with scientific conversations and articulated in seven sessions. Each session focussed on one outstanding theme, such as biomaterials or sustainable bio-production. Moreover, delegates attended a joint panel discussion with members of the Artificial Life community, whose ALIFE 2019 conference was taking place on the same days.
The aim of the symposium was not only to share scientific results, but also to foster collaboration and friendship within a diverse research community. With that in mind, it was only natural that the Microbiology Society would contribute to its success. As Society Champions, we felt that our Society could play a role even though the conference was mainly sponsored by the Federation of Biotechnological Societies. In fact, participating in a larger committee was very helpful for us, as it defused the anxiety of running such a massive event on our own.

It was our pleasure to contribute to the organisation of such a remarkable event. More than 50 researchers presented their posters during the Society-sponsored reception, which took place on the first day of the event. The Society's contribution greatly expanded the number of delegates who could showcase their research and empowered them to do so in an open and supporting setting. We felt that sponsoring the poster reception truly contributed to fulfilling our Society's core mission: to unlock the potential of microbiology by bringing together researchers from different communities.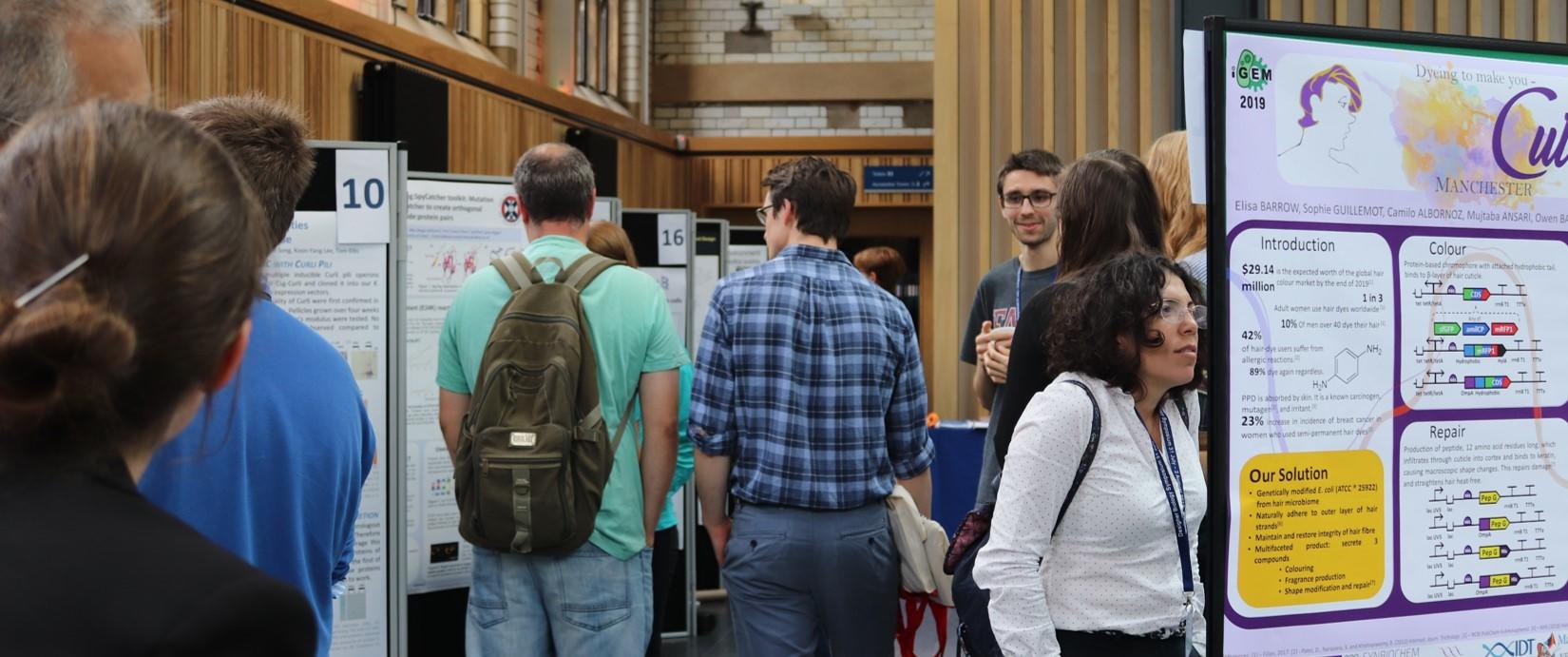 Additionally, we decided to especially celebrate the most junior members of our community by offering special poster prizes for Postgraduate and Early Career Researchers. These were awarded to Ms Jasmine Bird, Mr James Bryson, and Dr Louise Holyoake for their outstanding results. Given the fundamental contributions that young microbiologists make to the Microbiology Society, we felt it was important to reward their commitment to advancing science.
Overall, we feel that participating in the organisation of Designer Biology 2019 allowed us to expand and complement the remit of an already exceptional event. By following the core values of our Society, we could ensure participation for a wider and more diverse audience, and make it a success. This has also taught us a fundamental lesson for our role as Society Champions: one doesn't need a large event to effectively promote the Society! It is possible to make a huge difference even within a larger committee, by bringing together the diverse communities of microbiologists. We are thankful to the Society for supporting us in this wonderful experience, and we hope that more and more young scientists will start bringing the Society to life in various events across the country. Believe us: you will find all the support you need to deliver outstanding results!