Coronastream: something in the air
Posted on June 23, 2020 by Dr Tim Inglis
In this special blog series, medical microbiologists led by Dr Tim Inglis summarise some of the research that will be essential to inform COVID-19 countermeasures. Find out more about the project in Dr Inglis' Editorial 'Logic in the time of coronavirus', published in the Journal of Medical Microbiology.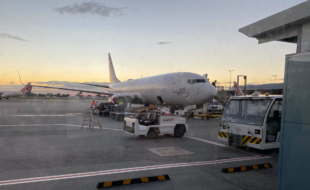 This week's topic was inspired by air travel with a mobile laboratory in tropical northern Australia. While our insertion was by a chartered flight, the return leg was on a commercial air liner: the first such flight by the team since the pandemic began.
Congruence: COVID-19 diagnosis by airport thermal scanners
Many institutions have used hand-held, contactless thermometers to screen people entering building for febrile illnesses. Some airports use thermal scanners to detect people who might be in the early stages of COVID-19. In this report, Quilty and colleagues assessed the value of airport thermal scanners and estimated that it detected around 46% of cases.
Given the effect of incubation period, sensitivity of entry/exit screening and asymptomatic cases, they conclude that airport thermal scanning is unlikely to detect enough COVID-19 to prevent the entry of affected travellers.
Consistency: absence of COVID-19 on an international flight
The debate over whether COVID-19 spread in droplets or by aerosol is particularly relevant to the resumption of air travel. In this account, a Canadian group report an international flight that included two subsequently confirmed cases of COVID-19 infection that did not propagate among the other passengers despite thorough contact tracing and testing. They cite this as evidence against the assertion that long distance air travel presents a risk of aerosol risk during the pandemic. However, they do highlight other potential contributors to COVID-19 transmission risk associated with air traffic, in particular pre-flight risks.
Cumulative dissonance: Domestic and international air traffic and COVID-19
The association between international and domestic air traffic and the coronavirus (COVID-19) outbreak
In this report, the authors studied the volume of passenger air traffic between Wuhan, which is a major transport hub, and destinations in China and the rest of the world. They found a correlation between air traffic volume and COVID-19 spread both internally (r2 = 0.92) and internationally (r2 = 0.98).
The authors conclude that some countries are at high risk of repeated exposure to COVID-19 through air travel from countries with high rates of infection, and predict onward transmission via air routes from countries with flights from China. The rapid global expansion of COVID-19 by air from its epicentre was predictable.
Curtailment: when controls backfire
In this short commentary, Sharmila Devi trains the spotlight on how attempts to control the pandemic with travel restrictions have put a brake on the movement of vital equipment and personnel. This rings true since our attempts to support outbreak control in northern Australia with enhanced laboratory capacity were held back for more than a month by internal border controls. While specified occupations were designated as essential, health care workers including laboratory staff were subject to compulsory 14 day quarantine. It did not make much sense at the time, and makes even less sense now that the next phase of pandemic control depends on how much opportunity we have had developing mobile laboratory procedures. In this article, David Beasley, of the World Food Programme is quoted as saying; "Commercial flights are grounded and medical cargo is stuck. We can stop this virus in its tracks but we've got to work together." Getting the show on the road [and in the air] requires a pragmatic, non-competitive approach. Fortunately for us, State government agencies have proved adept at chartering support flights.