Could the gut microbiome influence livestock growth?
Posted on October 24, 2018 by Stafford Vigors
Dr Stafford Vigors is a researcher at Teagasc, a Food Research Centre in Ashtown, Dublin. At the 2018 Microbes and Mucosal Surfaces Focused Meeting, Stafford presented his research 'Analysis of the intestinal microbiome of pigs divergent in feed efficiency.' Here, he explains how differences in the gut microbiome could improve - or hinder - pig growth on farms.
I am currently based in Teagasc Food Research centre in Ashtown, Dublin. Before I started here, the majority of my previous research took place in University College Dublin.
My research focuses on understanding the biological factors that impact feed efficiency in pigs and meat quality in beef cattle. Our ultimate aim is to identify functional markers of these traits to improve food production.
My research career began primarily as an animal scientist but as my career has progressed I increasingly used molecular techniques to carry out more in-depth investigations of the biological mechanisms behind meat quality and feed efficiency.
In the early stages of my research, the focus was on data and sample collection on the research farm. This led on to initial wet lab work such as RNA and DNA extractions and a lot of PCR, allowing us to gain an understanding some of the factors impacting feed efficiency. Then, I jumped in at the deep end and attempted to become a bioinformatician, using more advanced techniques such as RNA- and 16s rRNA sequencing to assess the factors influencing feed efficiency.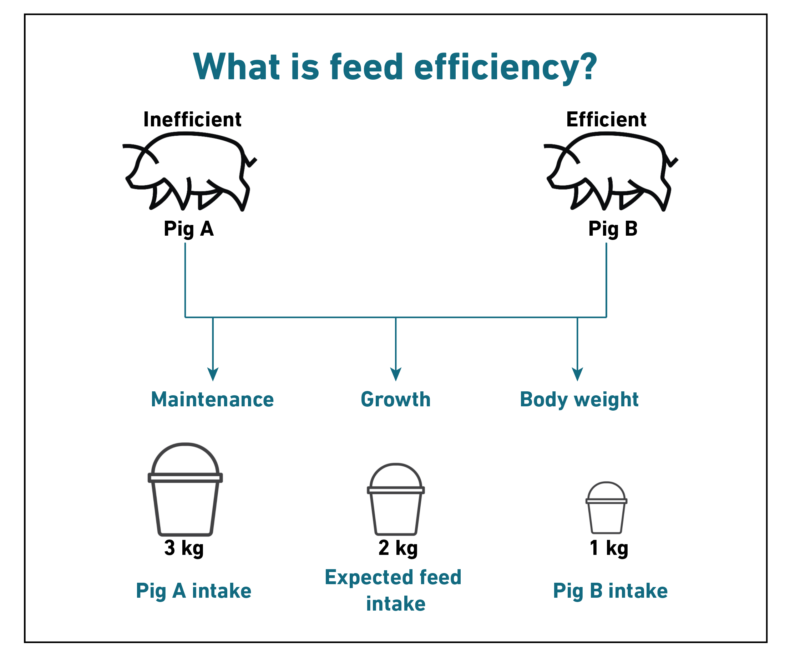 We identified that more efficient pigs have improved nutrient digestibility. The intestinal microbiota play a key role in nutrient breakdown and hence could be a key driver of changes in nutrient digestibility and subsequent animal performance. Similarly, the commensal gut bacteria interact with the immune system, influencing animal health. Previously, changes in the immune response of pigs that differ in feed efficiency have been identified, a factor potentially driven by changes in the gut microbiota.
Based on the importance of the gut microbiota in nutrient breakdown and health we used a 16s rRNA analysis to assess whether pigs that differ in feed efficiency have altered microbial profiles. The findings identified that less efficient pigs have increased diversity in the caecum of the large intestine compared to their more efficient counterparts. Variation in the bacterial populations from Phylum to species level were identified across multiple regions between groups of pigs. Interestingly, the groups of pigs differed in their populations of the Firmicutes. This is the most dominant phyla in pigs and along with Bacteroidetes forms 90% of the core microbiome. In human research, increased Firmicutes is associated with obesity. More efficient pigs are leaner suggesting a potential link between efficiency, the microbiome and fat levels.
In the future, larger research studies will need to be conducted to verify these findings, providing the opportunity to either select for more efficient pigs using microbial markers or use dietary supplementation to alter the microbial profile to make pigs more efficient.
My research into traits such as feed efficiency and meat quality have allowed me to develop a huge range of skills and learn about different areas such as genetics, microbiology, immunology and nutrition which I have really enjoyed and hope to continue to develop in the future.