Science and Stormont 2018: Impact of Brexit on Northern Ireland
Posted on October 26, 2018 by Yinka Somorin
Considering the Assembly has not sat since January 2017, it was not a quiet day at Stormont on the 8 of October 2018. Compared with my last trip here in September to attend my first meeting as the Northern Ireland (NI) Representative of the Microbiology Society at the All-Party Group on Science, Technology, Engineering and Mathematics (STEM), it was a beehive of activity, as professionals and leaders from the academia, industry and government met at the Royal Society of Chemistry's sixth annual Science and Stormont event in the Parliament Buildings at Stormont.
The event focused on what Brexit means for STEM and Industry in Northern Ireland and commenced with an opening remark from Dr Steve Aiken MLA. In the first Panel Session, Professor Jane Ohlmeyer, from Trinity College Dublin, described the results of the Royal Irish Academy (RIA) Brexit Task Forces in NI and Republic of Ireland (ROI). According to the report, 96 per cent of respondents in NI believed that Brexit was likely to have a negative impact on Higher Education in NI with no obvious positive benefits.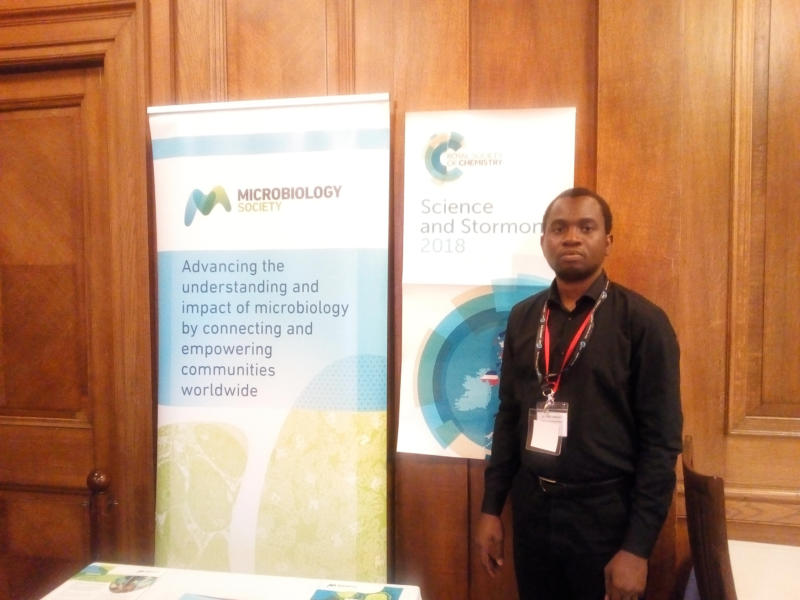 She said, based on student mobility between the UK and ROI, if there is a 'hard Brexit' with no special arrangement between the UK and Ireland, ROI may have to build another university to cater for the student population. And concluded that while Brexit provides some opportunities for ROI in terms of student enrolments and attracting talented academics and researchers, it is not the same for NI.
Professor Mark Price from Queen's University Belfast opined that Brexit does not all spell gloom for NI. He was optimistic about the impact of Brexit and drew examples from history, citing examples of how NI innovators have risen to the challenge in previous periods of economic hardship and uncertainties. Furthermore, he gave examples of new markets in Asia and other parts of the world being explored by NI companies.
The excellent collaboration between innovators in the academia and industry was highlighted by Professor James McLaughlin, OBE. He said there is a strong link between academia and the industry in NI - especially in the areas of health technologies - and this has resulted in rapid prototyping and several spin-out companies. Ulster University is currently leading a new 'Health Technology Hub' which will link basic science with applied research, train new PhD students and develop new technologies with industry. They hope this initiative will improve research outcomes and position Ulster University as a globally competitive facility for research funding in international health technology.
The lead talk 'Impact of Brexit on NI' was taken by eminent professor, Sir John McCanny CBE, renowned for establishing the Northern Ireland Science Park (now known as Catalyst Inc.) and for innovation in electronics, communications & information technology. He reiterated the importance of skilled EU workers in UK Research and Innovation, and how this is more important to NI. He echoed the Science is Global Campaign and that government should make this count in the Brexit negotiations to ensure mobility of research talents and international collaborations for the UK to remain globally competitive. John McGrane of the British-Irish Chamber of Commerce challenged NI industries and Higher Education Institutions not to waste Brexit but to cooperate and invest in emerging technologies that will help them remain competitive in the future.
The final session of the day was a panel of Members of the Northern Ireland Legislative Assembly (MLA). Three MLAs gave their thoughts and answered questions on the impact of Brexit on NI. It was emphasized that as the Brexit negotiations are ongoing, there should be better communication between scientists and politicians, and evidence should be presented without bias. The importance of telling a good story with research outcomes was highlighted by one of the panellists so that it can appeal to policymakers.
Further advice was given on how researchers can engage MPs involved in the Brexit negotiations:
Establish direct contact with those involved in the negotiations.
Distil the report (evidence) to be relevant for the MPs.
Professional societies should talk directly with MPs, so they don't see the information as political persuasion.
The Science and Stormont 2018 was an interesting opportunity to network with other scientists and also to understand how policymakers view and connect with scientific evidence. I have a better understanding of my role in engaging in discussions on how the Microbiology Society (along with other learned societies) can provide evidence and impact public policy.