From a postdoc: how could supervising a studentship benefit your professional development?
Posted on February 1, 2021 by Microbiology Society
Each year, the Microbiology Society awards a number of grants that enable undergraduates to work on microbiological research projects during the summer vacation and provide early- and mid-career scientists the opportunity to gain supervision experience. Over the next few months, we'll be posting a series of blogs from members who were awarded Harry Smith Vacation Studentships in 2020. This week is postdoctoral researcher Dr Angharad Green, University of Liverpool. Angharad recently supervised undergraduate student Thomas Barton during his summer project which determined gene expression changes in a pneumococcal gpsA deletion mutant, relative to the D39-wild type.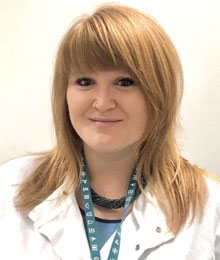 It has been a fantastic opportunity to be awarded this Harry Smith Vacation Studentship to coordinate the running of a summer research project. I am currently a postdoctoral research associate (PDRA), just starting the fourth year of a five-year postdoc. This experience has provided me with skills in research project management, as well as enhancing my ability to supervise and mentor students. It has been a wonderful opportunity to provide training to an undergraduate student and see them progress and produce reliable and thorough results throughout this project. I really enjoyed setting up and running the tutorial meetings to go through the RNA-Seq bioinformatic pipelines for Tom to successfully analyse the large dataset. The exciting results generated from this proposed work will also direct my future research and will contribute to a high-impact publication currently in preparation, entitled 'Identification of niche-specific virulence factors via experimental evolution of
Streptococcus pneumoniae'
.
I am at the point in my career where I am putting together fellowship applications and this opportunity has aided in my transition to an independent research career. Being awarded this grant has provided me with the necessary skills in my professional development, to fully manage and plan a research project. Receiving this grant has also confirmed for me that a career in academia is the route I want to follow and has given me a very positive experience of student supervision. This has given me the confidence that I will one day be able to run my own research group. I was also able to deal with the necessary changes to the award, as a result of the COVID-19 pandemic and successfully altered the project so that we could still carry out the research remotely. From this award, I have also gained experience in managing grant money, and in communicating effectively with the various university finance departments, ensured Tom was paid on time throughout the project time frame.
It is brilliant that the Microbiology Society provides the opportunity for early career researchers to fully manage a research project and to supervise an undergraduate student. This experience has been vital in enhancing my skills as a researcher and has helped to kick-start my independent academic career.
Find out more about how supervising a vacation studentship student could benefit your professional development
here
.
Applications for our 2021 scheme are now open and will close on 17 February 2021. Find out more and apply on our website here. For any questions, please contact

[email protected]

.