International Women's Day: Petra Fay
Posted on March 8, 2022 by Microbiology Society
International Women's Day (IWD) takes place annually on 8 March and is a celebration of the social, economic, cultural and political achievements of women, as well as a call to action for women's equality. The awareness day started in 1911 as part of the women's suffrage movement and this year's theme is #BreakTheBias which focuses on promoting a diverse, equitable and inclusive world.

To celebrate this year's IWD, we were very pleased to catch-up with member, Petra Fay, to find out more about her career in microbiology as well as what and who has inspired her, both as a woman and a microbiologist.
---
"I am inspired by organisations that embrace diversity, engage in dialogue to address these issues and empower women from all backgrounds." Petra Fay
Could you tell us about yourself?
My name is Petra Fay, and I am a postdoctoral research scientist at The Pirbright Institute in Surrey, UK.
What research or projects are you working on currently?
I work on the DEFEND project, an international consortium funded by the European Commission's Horizon 2020 funding programme, working together to combat the emergence of lumpy skin disease and African swine fever. My work focuses on characterising the humoral immune response of cattle to lumpy skin disease virus and developing next-generation vaccines to protect cattle against the disease.
It's International Women's Day on 8 March 2022; will you be doing anything to celebrate or raise awareness?
I am looking forward to celebrating the achievements we have made in our communities and our careers as women in STEM with my peers and friends. It is important to share our successes and failures and build a network of support and mentorship. I am conscious that I am responsible for encouraging the next generation of female leaders, so I will be sharing my experiences and passion for my work with my nieces by doing STEM craft activities. I'm excited to share and learn about the achievements of women from different cultures, ethnicities, races and communities worldwide. I aim to uplift, inspire, unify and change the narrative of women of colour in leadership.
As a woman working in microbiology, what are some of the challenges you have faced? Are there additional challenges faced as a woman of colour?
Unfortunately, leadership roles that represent women of colour are not typical in STEM organisations, particularly in animal health. Women account for ~50% at the undergraduate level in life sciences but only hold ~20% of senior positions, and of those, women from Black, Asian and minority ethnicities account for even lower. This has not gone unnoticed on my career journey, where a lack of diversity and colonial views of privilege have failed to inspire me. Not having representatives in senior leadership who identify with these issues and advocate against the unconscious biases that affect women of colour has made it challenging.
The most impactful lesson I have learned is that there is no prescribed pathway to success, but embracing diversity, being open to opportunities and having a strong support network has been integral to the achievements made in my career so far. I am inspired by organisations that embrace diversity, engage in dialogue to address these issues and empower women from all backgrounds, because women (and men) from different ethnicities bring new ideas to tackling global health issues. These are the types of organisations that I have been able to excel in.
Is there any advice that you would give to other women working in (or hoping to work in) science?
Working in science is incredibly exciting, rewarding, and frustrating at times. For me, nothing tops making new discoveries that can positively impact people's livelihoods and improve the health and welfare of animals worldwide. No day is the same, with new challenges and situations often arising, so developing a good level of resilience is imperative. I strongly advise finding a mentor who is invested in your career development, challenges you to take new opportunities and understands the challenges faced by women overall and women from minority groups.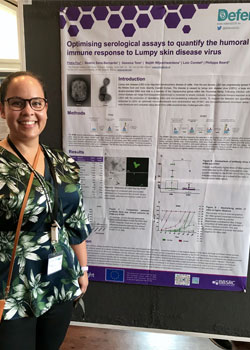 When and why did you first become interested in microbiology?
I have always been drawn to the natural world, influenced by growing up watching David Attenborough documentaries! My real passion for virology started a little over 10 years ago when I joined The Pirbright Institute as a research assistant in the reference laboratory for non-vesicular viruses. I was fortunate to have the opportunity to work on viral diagnostics for different animal diseases and get first-hand insight into the challenges in their control. I wanted to be more involved in research and improve my skills and knowledge in this area, so I proceeded to do my PhD at the institute. This gave me the foundation to continue my career in research and remain involved in a subject area I am passionate about.
If you hadn't gone into science, what career path would you have chosen?
I probably would have found myself pursuing a very different career in hotel management.
Do you have any role models and, if so, who?
I have benefited from having a mentor during my postdoctoral position at The Pirbright Institute who has made the most significant impact on my career progression to date and who I look up to as a role model. Dr Pip Beard has a wealth of leadership experience, expertise, humility and knowledge. She has encouraged, guided and challenged me to aim higher and given me a platform to make career-defining decisions.
I have found inspiration, laughter and encouragement through the words of one of my favourite authors, Chimamanda Ngozi-Adichie, who takes on the stereotypes of Black women in leadership, particularly women from Africa, whilst being an influential voice on an international stage. Finally, I continue to be inspired by the passion and dignity of Nobel Peace Laureate Leymah Gbowee, who actively demonstrates how women working together can be a force for change amid conflict.
What has been the highlight of your career so far?
One of the highlights of my career has been earning my PhD. Looking back on my experience, I understand now, more than ever, how it has shaped my career today and aligned with the goals I have for myself in the future. My PhD provided me with the opportunity to engage with some of the most influential scientists of my time and be a part of novel and influential scientific research.
Finally, what do you hope to achieve in your career in the future?
I look forward to ensuring that the career journey I continue to take impacts the communities where it matters and ultimately leaves a legacy that supports sustainable human and animal health.
If you would like to provide content for an awareness day, by taking part in a Q&A or showcasing your work, please take a look at our Get Involved webpage for more details.