Let's Play – Plague Inc: Evolved (with a scientist)
Posted on December 2, 2016 by Microbiology Society
Plague Inc: Evolved is a video game where players try to evolve a pathogen that can infect and kill the whole of humanity.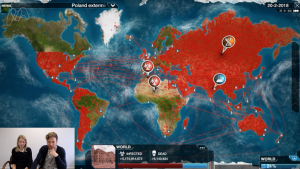 While this is obviously not our aim here at the Society, the game does provide an interesting angle for looking at disease transmission and epidemiology. How does a pandemic spread? And what's the best way to stop it?
We played Plague Inc: Evolved with Dr Rosalind Eggo from the London School of Hygiene and Tropical Medicine, to explore some of the science behind the game and find out how accurate it really is.
Plague Inc. was developed by Ndemic Creations; you can download it here.