Microbe Talk: November 2016
Posted on November 30, 2016 by Benjamin Thompson
When pathogenic viruses pass from their animal reservoir into humans – known as 'spillover events' – the consequences can be severe. For example, it is thought that the West African Ebola outbreak began with an 18-month-old child in Guinea contracting the virus from a wild animal.
Predicting the next pandemic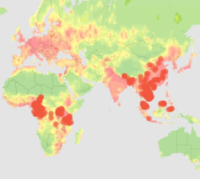 To prevent future disease epidemics, we need a better understanding of the nature of spillover events, and the viruses involved in them. In this month's podcast, we spoke to Professor Jonna Mazet, Director of the One Health Institute at the University of California, Davis. Jonna is also the Global Director of PREDICT, an ambitious project that is trying to identify any pathogens that might pose a threat to human health, and working to build capacity in areas of the world that are at risk of disease emergence.

Don't forget, you can subscribe to Microbe Talk on iTunes. You can also find us on Soundcloud and Stitcher.