Meet the new Microbiology Deputy Editor-in-Chief: Professor Tracy Palmer
Posted on March 16, 2021 by Microbiology Society
In this blog, we get to know Professor Tracy Palmer, who was announced as the new Deputy Editor-in-Chief of Microbiology. We asked Tracy some questions about her research interests and her new role on the Microbiology Editorial Board.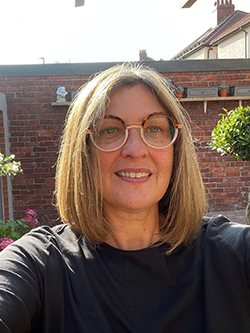 I'm Tracy Palmer, Professor of Microbiology and Lead for the Microbes in Health and Disease team in the Faculty of Medical Sciences at Newcastle University. I have a long-standing interest in the bacterial cell envelope, and in particular the processes that bacteria use to transport proteins across cell membranes. I am interested in the functional organisation of protein export systems, and also in the exported proteins and their roles in bacterial physiology.
When did you first decide you wanted to do science?
I guess it was in secondary school – I was a bit of an all-rounder because I enjoyed chemistry and biology, but also French and German. It was actually my language teachers who advised me to study sciences at university, because it would give me better employment prospects! I was still quite unsure about which degree to follow, but in the end, I settled on biochemistry, because I naively assumed it was a combination of both biology and chemistry. It wasn't until the final year of my undergraduate biochemistry degree that I really became interested in bacteria as model systems, and many more years before I considered myself to be a microbiologist!
What is your biggest professional achievement?
It's hard to single out one thing, but if I had to, it would be being one of the researchers who first described the twin-arginine protein transport (Tat) system in bacteria. This was the first protein export system to be discovered that transports folded proteins across the bacterial cytoplasmic membrane, and it is critical for the biosynthesis of respiratory and photosynthetic electron transport chains. I was fortunate to be involved in the Tat field at the very start of my independent research career, and my research in this area helped to secure me a tenured position. The professional recognition I achieved later in my career, really all stems from that early work on the E. coli Tat pathway.
What would you be doing in your career if you weren't a scientist?
I would be an Egyptologist! I know if I had discovered this topic as a child, I would have studied this subject at university. However, these were the days before the internet, and it was not covered at school. It wasn't until my mid 20s that I really became fascinated by it. There's quite a famous Egyptologist from Barnsley, which is very close to where I grew up, and every time I see her on television, I think that could have been me. Ah well…
What does it mean to you to be the Deputy Editor-in-Chief of Microbiology?
It's quite an honour to be Deputy Editor-in-Chief of Microbiology, particularly as we are about to celebrate the journal's 75th anniversary. I also feel quite a weight of responsibility because it is a turbulent time in academic publishing. The past few years have seen the movement to Open Access publishing, coupled with an explosion of new journals. As an author, there is an almost bewildering choice in where to publish, and as an editor there is the challenge of ensuring authors submit to Microbiology rather than other journals. We have lots of exciting initiatives planned to celebrate 75 years of the journal, and plenty of ideas about how we take Microbiology forward to its centenary.
Why are Society journals important?
I am such a fan of learned society journals. In the early days of scientific discovery, it was the Society journals where findings were reported. In those days there was no such thing as an impact factor and the only thing that mattered was to get peer-reviewed work published. Although there are now many other options for publishing, Society journals remain hugely important. They benefit their communities in ways that many other journals don't, primarily because the profits they make are used to support community activities such as conference organisation and attendance, and undergraduate research scholarships.
Why do you think authors should be publishing their articles Open Access, and getting involved with Publish and Read?
Much of the research carried out by scientists is funded by the public, through taxation or charity donations. To my mind it is only fair that the general public who funded me are able to freely access and read my work. This is why I think it is critical to support Open Access publishing. Publish and Read is a great initiative – here the library 'subscription' is replaced by an institution 'Publish and Read' deal, where any corresponding author from that institution can publish fee-free Open Access and any employee or student at that institution has free access to the entire archive of Society content. This is a massive benefit to authors in particular, as for many journals article processing charges are very costly and often cannot be charged to research grants.
What do you think the future holds for microbiology?
There has never been a more important time to be a microbiologist. The COVID-19 pandemic has brought infectious disease to the forefront and the rapidity with which vaccines have been developed has been astounding. Antimicrobial resistance is another major threat to human and animal health, and one that needs sustained research investment. The influence of the microbiome in many human diseases is starting to be appreciated, and the harnessing of microbes for the production of food, pharmaceuticals and green energy will continue to be of huge importance. The general excitement that greeted the Perseverance Rover landing on Mars demonstrates the public interest in the search for extra-terrestrial microbial life. More people are aware of the critical importance of microbiology than ever before, and I'm hopeful that this will translate into more microbiologists in the coming years.