Meet the Sir Howard Dalton Young Microbiologist of the Year Finalists: Clodagh Carr
Posted on September 26, 2022 by Microbiology Society
The Sir Howard Dalton Young Microbiologist of the Year Prize is awarded by the Society each year. The prize recognises and rewards excellence in science communication by a Microbiology Society member who is a postgraduate student or postdoctoral researcher, having gained their PhD in the last two years.

Finalists shortlisted from oral and poster presentations at Annual Conference 2022 will present their research at the Society Showcase on the 5th of October. In the run up to the event, we will be meeting the finalists and getting to know a bit about each of them and their work.
Clodagh Carr: PhD Student, University College Cork, Ireland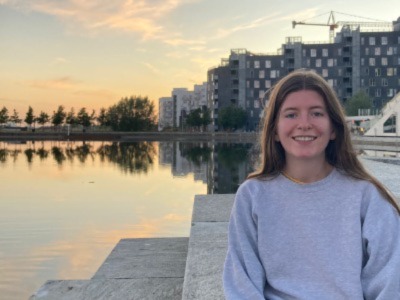 What is the title of your talk?
Identification and expression of a putative polyesterase enzyme from deep-sea sponge-derived Brachybacterium sp. isolate, with potential use in polyester plastic hydrolysis
What are your current research interests?
Environmental microbiology and biotechnology. My current focus is on marine bacteria and using their enzymes to catalyse chemical reactions, but I am generally interested in making use of microbes to help reduce environmental problems and create more sustainable processes.
How would you explain your research to a GCSE student?
When we think of marine life, we usually think of the creatures we can see – fish, turtles, dolphins, and whales. As it turns out, bacteria and other micro-organisms make up 90% of the life in our oceans. In a single drop of seawater, you will find a million bacterial cells. Marine bacteria often live on or inside other marine life, where they benefit each other. These bacteria release energy from large molecules in the marine environment using specialised proteins called enzymes. In our lab, we work with bacteria that were originally living within sea sponges. While investigating their enzyme activities, we found bacteria from a deep-sea sponge with the potential to break down polyester plastic.
If you weren't a microbiologist what would you be?
I would be exploring my options – I like work that involves people, nature, and solving problems, with room for creativity.