Meet the Sir Howard Dalton Young Microbiologist of the Year finalists: Emma Banks
Posted on September 1, 2021 by Microbiology Society
The Sir Howard Dalton Young Microbiologist of the Year Prize is awarded by the Society each year. The prize recognises and rewards excellence in science communication by a Microbiology Society member who is a postgraduate student or postdoctoral researcher, having gained their PhD in the last two years. In the run-up to the event, we will be getting to know the finalists. In this blog, we meet Emma Banks, a final-year PhD student from the University of Nottingham, UK.
Finalists shortlisted from oral and poster presentations at Annual Conference Online 2021 will present their research to compete for the award at the Society Showcase and AGM on Thursday 16 September. They which will be judged by a panel chaired by Prof Jose Bengoechea, co-Chair of the Sustainability Committee, and comprising representatives of the Society's Divisions.
Emma Banks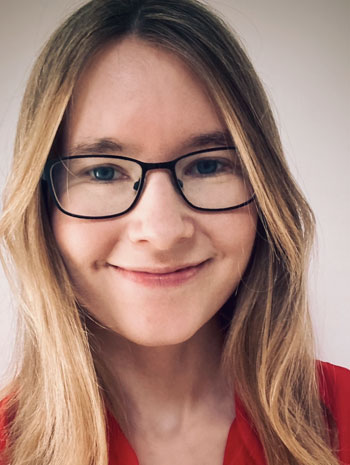 Talk title: Creating curvature to kill: an enzyme that shapes predatory Bdellovibrio bacteria, optimising invasion and replication within prey
Research interests: I am fascinated by predatory Bdellovibrio bacteria and the molecular mechanisms that facilitate the invasion of Bdellovibrio into its prey. More broadly, my interests lie in bacterial cell biology, particularly processes that occur at bacterial cell surfaces – for example cell envelope structure, morphology, pathogenesis, protein secretion and interbacterial interactions.
Theme of talk: My research focuses on a bacterium called Bdellovibrio bacteriovorus which has a very unusual lifecycle because it needs to hunt and consume other bacteria in order to replicate and survive. Bdellovibrio can kill a wide range of prey bacteria including antibiotic-resistant pathogens, therefore, it could be developed as a novel therapeutic treatment for drug-resistant infections. My talk is centred around a single protein which generates the curved 'vibrio' shape of Bdellovibrio predator cells and how the curvature of Bdellovibrio helps it to invade and replicate within its prey host.
If I was not a microbiologist, I would be… That's tricky – it's hard to imagine not working in microbiology. If I wasn't a scientist, I might be a film critic, as it would marry together two things I enjoy – cinema and writing. Not to mention the fact that I'm a big fan of Mark Kermode and the film podcast he does!
---
Emma's talk will take place during Society Showcase and AGM on 16 September, which is still open for registration. Visit the event page for short profiles of the finalists, and keep an eye on the blog to read more full profiles, which will continue to be published over the next few weeks.
Updates about the event will also be shared on our social media channels – follow us @MicrobioSoc on Twitter (using the hashtag #YoungMicro21), and on Facebook, Instagram and LinkedIn.