Meet the Sir Howard Dalton Young Microbiologist of the Year finalists: Danielle Nader
Posted on August 31, 2021 by Microbiology Society
The Sir Howard Dalton Young Microbiologist of the Year Prize is awarded by the Society each year. The prize recognises and rewards excellence in science communication by a Microbiology Society member who is a postgraduate student or postdoctoral researcher, having gained their PhD in the last two years. In the run-up to the event, we will be getting to know the finalists. In this blog, we meet Danielle Nader, a PhD student from the Royal College of Surgeons in Ireland.
Finalists shortlisted from oral and poster presentations at Annual Conference Online 2021 will present their research to compete for the award at the Society Showcase and AGM on Thursday 16 September. They which will be judged by a panel chaired by Prof Jose Bengoechea, co-Chair of the Sustainability Committee, and comprising representatives of the Society's Divisions.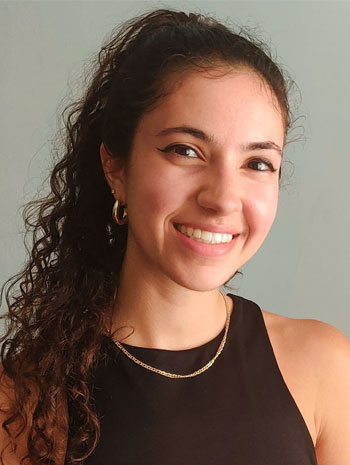 Danielle Nader
Talk title: Targeting the evolutionary RGD motif in the spike protein of SARS-CoV-2 serves as a novel treatment option to prevent vascular damage during COVID-19
Research interests: I am interested in identifying crucial host–microbe interactions that drive fungal and viral sepsis. In addition, I am also focused on the signalling pathways that are triggered during pathogenesis and developing novel therapeutics against these targets.
Theme of talk: SARS-CoV-2, the virus that causes COVID-19, has developed a unique mutation that may play a role in disease transmission. Blocking its main receptor, ACE2, does not completely eliminate infection, suggesting the possibility of another receptor. Integrins are upregulated during COVID-19 and may be targeted by this evolutionary mutation. We have studied the mechanisms behind SARS-CoV-2 and integrin binding and found that this interaction may cause cardiovascular damage in severe COVID-19. In addition, we have investigated the integrin-blocker drug, Cilengitide, and its ability to prevent the virus from attaching to human cells, revealing the potential of a new antiviral treatment.
If I was not a microbiologist, I would be… an animator. I have a huge imagination and love creating stories through art. I'd probably venture into animations inspired by nature, similar to Studio Ghibli or Pixar studios.
---
Danielle's talk will take place during Society Showcase and AGM on 16 September, which is still open for registration. Visit the event page for short profiles of the finalists, and keep an eye on the blog to read more full profiles, which will continue to be published over the next few weeks.
Updates about the event will also be shared on our social media channels – follow us @MicrobioSoc on Twitter (using the hashtag #YoungMicro21), and on Facebook, Instagram and LinkedIn.