Meet the Sir Howard Dalton Young Microbiologist of the Year finalists: Mary Turley
Posted on September 14, 2021 by Microbiology Society
The Sir Howard Dalton Young Microbiologist of the Year Prize is awarded by the Society each year. The prize recognises and rewards excellence in science communication by a Microbiology Society member who is a postgraduate student or postdoctoral researcher, having gained their PhD in the last two years. In the run-up to the event, we will be getting to know the finalists. In this blog, we meet Mary Turley, a PhD student from Trinity College Dublin.
Finalists shortlisted from oral and poster presentations at Annual Conference Online 2021 will present their research to compete for the award at the Society Showcase and AGM on Thursday 16 September. They which will be judged by a panel chaired by Prof Jose Bengoechea, co-Chair of the Sustainability Committee, and comprising representatives of the Society's Divisions.
Mary Turley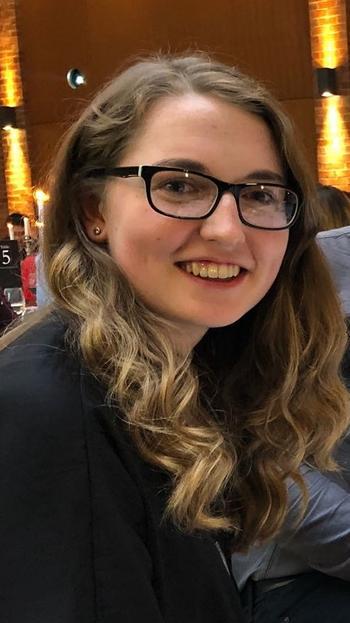 Talk Title: Polysaccharide-Dependent Biofilm Formation is induced by Bile in Cystic Fibrosis Isolates of Staphylococcus aureus.
Research Interests: I am interested in molecular microbiology with a particular fascination with the mechanisms employed by pathogenic bacteria to colonise and survive within the human host. I enjoy research that connects both bacterial and host factors to the disease process!
Theme of Talk: Cystic fibrosis (CF) is a condition that affects 70, 000 people worldwide. Many CF patients will suffer from a gastric reflux condition that leads to the aspiration of bile into the lungs. Staphylococcus aureus pulmonary infections contribute to accelerated clinical decline and disease morbidity in CF patients. My PhD focuses on whether S. aureus can adopt a chronic lifestyle in the CF lung and if bile affects this process. Understanding the relationship between S. aureus pathogenesis and components of the CF lung environment will hopefully allow for the development of anti-staphylococcal agents to improve CF clinical outcomes.
If I was not a microbiologist, I would be… a historian. I have a passion for history. I'm an avid reader and enjoy how it can be intellectually exciting to immerse yourself in a bygone era. History matters and will challenge both the writer and the reader – I think it would be a stimulating and enjoyable career!
---
Mary's talk will take place during Society Showcase and AGM on 16 September, which is still open for registration. Visit the event page for short profiles of the finalists, and keep an eye on the blog to read more full profiles, which will continue to be published over the next few weeks.
Updates about the event will also be shared on our social media channels – follow us @MicrobioSoc on Twitter (using the hashtag #YoungMicro21), and on Facebook, Instagram and LinkedIn.