Meet the Sir Howard Dalton Young Microbiologist of the Year finalists: Luke Woodford
Posted on September 10, 2021 by Microbiology Society
The Sir Howard Dalton Young Microbiologist of the Year Prize is awarded by the Society each year. The prize recognises and rewards excellence in science communication by a Microbiology Society member who is a postgraduate student or postdoctoral researcher, having gained their PhD in the last two years. In the run-up to the event, we will be getting to know the finalists. In this blog, we meet Luke Woodford, a PhD student from the University of St Andrews.
Finalists shortlisted from oral and poster presentations at Annual Conference Online 2021 will present their research to compete for the award at the Society Showcase and AGM on Thursday 16 September. They which will be judged by a panel chaired by Prof Jose Bengoechea, co-Chair of the Sustainability Committee, and comprising representatives of the Society's Divisions.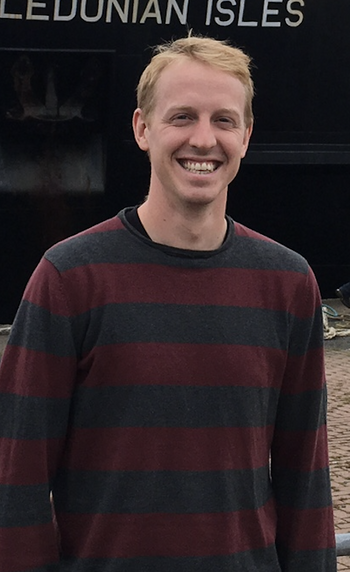 Luke Woodford
Talk title: 'Healthy honey bees: Analysis of Deformed Wing Virus populations to assess rational Varroa control'
Research interests: I'm broadly interested in host/vector/pathogen interactions. Specifically during my PhD, I have been investigating Deformed wing virus, a pathogen of honey bees that is transmitted by the ectoparasitic mite Varroa destructor.
Theme of talk: Varroa destructor is an ectoparasitic mite which infests honey bee colonies and transmits a cocktail of viruses. The most notable of which is Deformed Wing Virus (DWV). Together, Varroa and DWV cause annual overwinter colony losses of ~25% in the UK. Effective miticides exist to prevent Varroa, but without coordination of treatments between beekeepers, the mites move from colony to colony and infestations persist. Using a landscape-scale study working with amateur beekeepers on the isle of Arran, we investigated whether coordination of treatments to reduce Varroa infestations and DWV infections improved honey bee health over a 3-year period.
If I was not a microbiologist, I would be… After biology, art was my favourite subject in school, so perhaps I'd trade pipettes for paintbrushes!
---
Luke's talk will take place during Society Showcase and AGM on 16 September, which is still open for registration. Visit the event page for short profiles of the finalists, and keep an eye on the blog to read more full profiles, which will continue to be published over the next few weeks.
Updates about the event will also be shared on our social media channels – follow us @MicrobioSoc on Twitter (using the hashtag #YoungMicro21), and on Facebook, Instagram and LinkedIn.