Microbial Genomics – a new journal from the Society for General Microbiology
Posted on April 2, 2015 by Parita Patel
This week the Society for General Microbiology announced the forthcoming launch of a new peer-reviewed and open access journal, Microbial Genomics (MGen).
The news was welcomed by our members and delegates at the Society's Annual Conference, held in Birmingham, UK, where the announcement was made.
Microbial Genomics will publish high-profile research on archaea, bacteria, microbial eukaryotes, and viruses – seeking papers that use genomic approaches to provide a better understanding of subjects ranging from long term and contemporary evolution to insights of immediate clinical and/or environmental relevance. The journal accepts research papers, reviews, methods and short papers that range from outbreak reports, genomic re-analysis to rapid communication papers.
MGen is the Society's second fully open access journal in just over a year, following the launch of JMM Case Reports in January 2014. We are excited to confirm that all articles will be freely available and will be published online under a default CC-BY-NC licence. Where authors require it, the journal will also offer an optional CC-BY licence. MGen will give authors the opportunity to deposit their article to subject-specific or general depositories under its pre-print and post-print policies.
To celebrate the launch, the Society is waiving open access fees for all authors for at least the journal's first year, meaning that it is free to publish with MGen.
This is first journal from the Society to publish with a mandatory open data policy, requiring authors to archive any supporting data, protocols, software and/or programmes that have led to the conclusions drawn in the paper. MGen aims to encourage authors to share data in an easily accessible and visible way. The Society has partnered with the online data repository Figshare to improve the display of supplementary data, and to make it more discoverable and easier to share and cite. This will help to ensure the long-term preservation of this content.
As well as having an open access and open data policy, MGen offers a number of other key features including publishing content under a continuous publishing model. Accepted papers will be published and citable within 3 working days of acceptance, with the final version published within 4 weeks.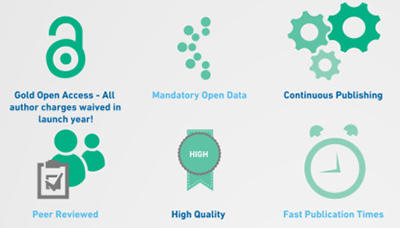 The new journal will be led by Professor Nicholas Thomson and Professor Stephen Bentley, both based at the Wellcome Trust Sanger Institute, as joint Editors-in-Chief. Both were recently recognised as 'Highly Cited Researchers 2014' by Thomson Reuters, and provide a strong foundation of publishing experience mixed with specialist knowledge.
The Editors-in-Chief will be supported by an international and influential Editorial Board at the forefront of research. Each member has been carefully selected to allow for a deep understanding of the journal's key audience, with the aim of capturing front-line research in the field. They will follow, react to, and promote key research trends.
Submissions are now welcome via our Editorial Manager submission site. Full launch with content is planned for July 2015.
For more information please visit the journal website or contact the Publishing team. We encourage all readers to engage with our editors, authors and the microbial genomics community via Twitter using #MGen.