One Health Day: Arindam Mitra
Posted on November 2, 2023 by Microbiology Society
3 November is One Health Day – a global initiative that celebrates and raises awareness of the necessity of a One Health approach to tackle the health risks that are shared by the interconnections of humans, animals and the environment. Society Champion and Members Panel member, Arindam Mitra, Professor of Microbiology at the Department of Biological Sciences, Adamas University, India has shared a blog on the multitude of public health issues that a One Health strategy may tackle.

It is important to celebrate One Health Day, as it is a global health concern that affects all. One Health is a holistic approach that connects public health with animals and the environment. One Health is a collaborative, multisectoral and transdisciplinary approach that recognises that the health of humans, animals and the environment are linked together. It aims to achieve optimal health outcomes by recognising these connections and addressing potential or existing health threats at the human-animal-environment interface. The One Health approach is crucial for addressing emerging, re-emerging and endemic zoonotic diseases, neglected tropical diseases, vector-borne diseases, antimicrobial resistance, food safety and security, environmental contamination, climate change, and other health threats to humans, animals, and the environment.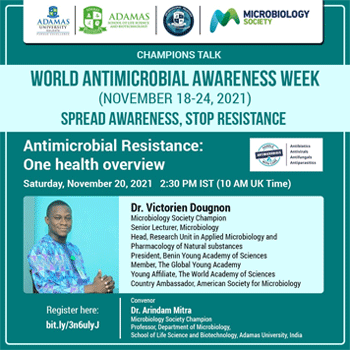 Adamas University integrates the One Health concepts into its microbiology, biochemistry and biotechnology programmes.
Periodically, the university also organises events and seminars for students, research scholars, faculty members and other stakeholders in alignment with One Health. For example, speakers of Champion-organised events put on by Adamas University are supported by the Microbiology Society – with discussions on One Health initiatives in Africa and the challenges of antimicrobial resistance in India. Furthermore, there are national and international collaborative research initiatives by researchers at Adamas University that are in alignment with One Health.
The One Health approach is critical for the control of infectious diseases. When human populations expand into new regions due to increasing urbanisation, people begin to live closer to wild and domestic animals, including livestock, more than ever. Close contact with animals and their environments increases the risk of disease transmission. Environmental and habitat changes can also spread diseases to animals. Zoonotic diseases (diseases that spread between animals and people) have spread due to these changes and every year people contract zoonotic diseases including: anthrax, brucellosis, ringworm, Ebola, rabies, and West Nile virus infection. Furthermore, international travel and trade have increased the movement of people, animals and animal-related products. Therefore, diseases can spread quickly across borders and the world in a short space of time. Understanding the interactions of humans, animals and the environment helps us to predict, prevent and treat these diseases.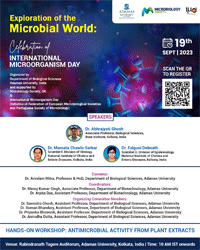 The One Health approach can control antimicrobial resistance. Humans and animals can develop antibiotic-resistant pathogens from antibiotic misuse and overuse. One Health advocates for antibiotic stewardship across all sectors to combat this global threat. Countries have implemented national action plans to combat antimicrobial-resistant pathogens, based on the One Health approach. The One health approach is critical in the creation of awareness around the use of antibiotics and formulating policies on antimicrobial stewardship.
Foodborne illnesses can be reduced by protecting animals, especially those in the food chain. Diverse types of foodborne pathogens can be transmitted via food, including: bacteria, viruses, parasites and even prions. Foodborne illnesses can be prevented by taking a proactive approach involving the interconnectedness between animals, humans, and the environment. Food in particular, can become a vehicle for zoonotic pathogens which can be passed onto people. Such spillover can be minimised by cooperation and collaboration amongst stakeholders of animal health, food regulators and human health.
Many countries have implemented the One Health approach and benefitted from this. The rationale and the benefits of using the One Health approach should be informed to decision-makers, to make the approach more sustainable in terms of policy and resource allocation. To increase the effectiveness of the One Health approach, collaboration amongst stakeholders is required both at a local and global level.
One Health Day stands to remind us that humans, animals, and environmental health are all interconnected. With One Health, we can create a sustainable and healthier planet for all.