Protozoology and Microbial Genomics
Posted on December 16, 2019 by Professor Jessica Kissinger
From 4-6 November 2019, Microbial Genomics (MGen) helped support Editor Jessica Kissinger to attend the 35th Meeting of the Brazilian Society of Protozoology and the 46th Annual Meeting on Basic Research in Chagas' Disease in Caxambu, Brazil. She presented a roundtable talk, a poster, promoted the journal and awarded two poster prizes in the area of genomics on behalf of MGen. Here, she discusses her experience at this long-running meeting focused on eukaryotic micro-organisms.
I first attended the "Caxambu" meeting, as it is often referred to, in 1995 as a postdoctoral researcher in search of a new position in Brazil researching Plasmodium, the causative agent of malaria. I was successful in my endeavour and attended this excellent meeting for the next 10 years. My return to the meeting this year brought an end to a 15-year absence. As I quickly learned, I had been away for too long.
The meeting is divided into three areas: biology of protozoa and their vectors, the host–pathogen interaction and translational biology.
The conference began with a pre-meeting on the comparative cell biology of the unicellular parasites trypanosomatids. The conference then opened with a keynote from Professor Angela Cruz, entitled 'Exploring the content of noncoding RNAs, putative regulatory elements, in the protozoan parasite Leishmania.'
Other keynote talks included 'Reversed immunoglycomics for identification and synthesis of α-Gal biomarkers and vaccines for Chagas' Disease,' by Igor Correia de Almeida; 'The benefit of being different: Understanding cell-to-cell heterogeneity in pathogens,' by Nicolai Siegel; 'Drug Discovery for Neglected Tropical Diseases,' by Adriano Defini Andricopulo; 'A light in the dark: Using real-time imaging to define the in vivo infection dynamics of Trypanosoma cruzi,' by Michael Lewis; 'Towards the understanding of benznidazole resistance in Trypanosoma cruzi,' by Omar Triana Chávez; 'Why is understanding the diversity and phylogeny of parasites that cause leishmaniasis important and not just an academic exercise?' by Jeffrey Jon Shaw; 'Trypanosomes can initiate mRNA export co-transcriptionally,' by Susanne Kramer; 'Immune mechanisms driving anemia in Plasmodium vivax infection,' by Erika Martins Braga and 'Leishmania and sand fly: unravelling a complex relationship,' by Yara Maria Traub-Csekö.
For me, the poster sessions were the highlight of the meeting. They were conveniently located to the left of the outdoor pool and Brazilian refreshments. There were hundreds of posters representing research in progress, primarily by graduate students and postdoctoral researchers. The posters were divided into the three meeting themes and I had the challenging task of identifying two winners in the area of genomics. It was during the poster sessions that my sense of just how much I had missed in the last 15 years of not attending this conference made my head spin. Despite the profound and serious economic crisis occurring in Brazil, the creativity and passion exhibited by the presenters was outstanding.
Selecting two winners was difficult, but in the end, Juliana Ide Aoki's poster "Leishmania arginase activity impacts both host and parasite gene expression modulation" and Alex Ranieri Jerônimo Lima's poster "Detection of active chromatin regions by faire-seq analysis in Trypanosoma cruzi epimastigote and metacyclic forms" won out. Each received a £150 prize on behalf of Microbial Genomics.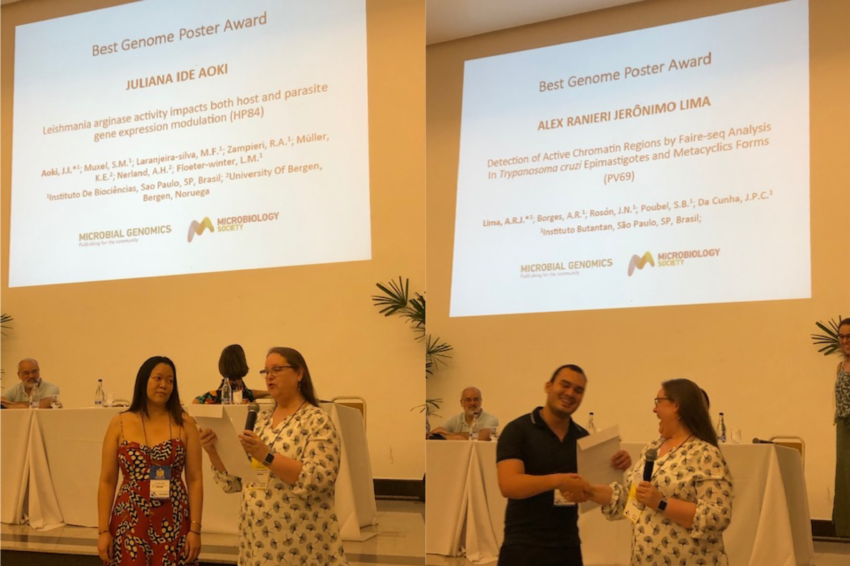 This long-running meeting attracts an international audience and the format has only two concurrent sessions for small portions of the meeting. The setting is informal (think poolside) at a historic 1950s style hotel across the street from a historic mineral water park in the interior of Brazil (around a five hour drive/bus ride from Belo Horizonte, Rio or São Paulo). The atmosphere is amazing. All meals are served at small tables that seat 4-6 people, greatly facilitating conversations and the exchange of ideas with different researchers at each meal. There are many protist and parasite-specific meetings globally, but the Caxambu meeting is special and is definite must for those working on kinetoplastid organisms.