Raising awareness of antimicrobial resistance through art: 'ART LAB: Art of Antimicrobial Resistance'
Posted on June 7, 2022 by Dr Rebecca Weiser
In February 2022, a team of Cardiff University researchers and professional services staff delivered an antimicrobial resistance (AMR) themed science-art event in a local arts centre. The event aimed to increase awareness of AMR and reach people who might not engage with more traditional Science Technology Engineering and Maths (STEM) activities. Here, ECM forum member and project lead Dr Rebecca Weiser discusses her experience of ART LAB.

I have always been interested in art and design and very nearly pursued a Masters degree in Graphic Design rather than Medical Microbiology. Ten years later, I am a postdoc and very happy that I chose microbiology, but I am always looking for ways to be creative in my job; usually this means spending much too long designing scientific figures and posters!
In Summer 2021, Cardiff University announced a new funding scheme called 'Innovation for All' to support impactful and translational activities linked to research. The funding call specifically encouraged applications led by early career researchers, and one of the focus areas was public engagement. This seemed like a perfect opportunity to combine my interests in science and art, develop my communication skills and gain project management experience. I worked with an amazing team of people to secure this funding and deliver a sci-art public engagement project to promote awareness of antimicrobial resistance, one of the most important global health challenges to date.
Sci-art and using art to engage people with science are not new concepts. The Wellcome Collection and 'Invisible Worlds' at the Eden project are fantastic examples of sci-art exhibitions providing engaging and educational experiences for a variety of audiences. Organisations such as the SciArt Initiative, bioartists such as Anna Dumitriu and scientific illustrators such as Eliza Wolfson (designer of the Microbiology Society's Multicoloured Microbiomes colouring book) are pushing boundaries to bridge the gaps between art and science. We took inspiration from these sources (and many others!) and tailored something to fit our £7,500 budget.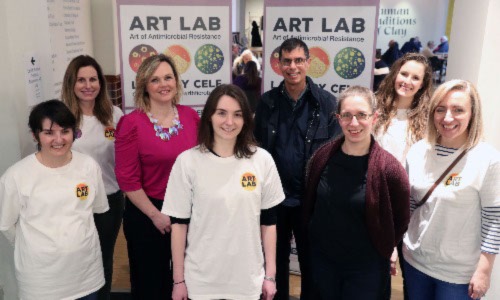 Our plan was to bring together research and creative networks, artists, the public and community hubs to deliver a one-off proof-of-concept event. The proposed event would coincide with Cardiff Science Festival and comprise an AMR-themed art exhibition and a screening of the documentary film 'RESISTANCE' accompanied by a panel discussion. We wanted the art exhibition to showcase artworks that we had commissioned from professional artists through the Creative Cardiff Network, as well as entries to a public art competition. We had less than 5 months from the start of the project (1 October 2021) to running the event (19–22 February 2022), meaning it was all stations go!
There was so much to do! We had to come up with a name, logo and project branding, make a website and social media accounts, launch the art commission call out, launch the public art competition and devise our promotion and evaluation strategies. Fortunately, we had over 20 people involved, divided into sub-teams to tackle the multitude of tasks that were running in parallel. As someone with little to no experience of project management, I found being project lead quite challenging but I was able to guide the team to meet the majority of our deadlines.
Despite several hiccups, including the uncertainty of running in-person events due to COVID-19 and the unwelcome arrival of Storm Eunice on 18th February, our event went ahead as planned at Chapter Arts Centre and was a great success! The art exhibition received between 25-50 visitors per day who marvelled at the four commissioned artworks (graffiti art, soap sculptures, risograph prints and an oil painting) and 65 entries to the public art competition. There were 18 people at the film screening who really engaged with the panel discussion afterwards. A variety of topics were discussed including antibiotic prescribing, antibiotics in animal care and responsibility for action against AMR.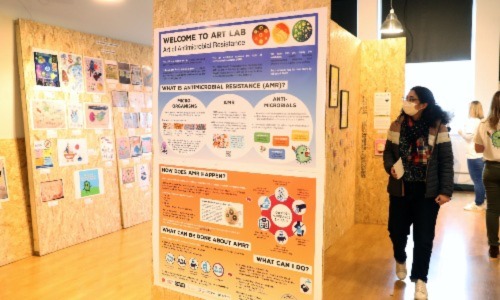 The feedback from the event was very positive and we were delighted that 93% of event attendees, 47% of the adults' art competition entrants, 73% of the children's art competition entrants and all four commissioned artists learnt something new about AMR. We also reached people who might not otherwise have engaged with STEM; 31% of children entered the art competition because of the art rather than the science and 30% of event attendees either had some interest in STEM but did not normally seek out STEM activities, or had no interest in STEM. The adults' art competition attracted a different demographic, with 68% of entrants working in STEM, 26% having an active interest and 5% having some interest, potentially explaining why only 47% learnt something new about AMR.
Although we cannot track long-term changes in behaviour relating to antimicrobial stewardship, it is clear that our event improved awareness of AMR in people of different age groups and STEM/Arts backgrounds. The event attendees, commissioned artists and art competition entrants also enjoyed the crossover between science and art, indicating that there is certainly demand for similar 'blended' events in the future.
Being part of ART LAB was an enjoyable and rewarding experience. I met new people from science and arts backgrounds, gained experience in areas such as website design, GDPR-compliant data collection and project management, and was blown away by the amazing artwork. It was also a huge amount of work, and I was very fortunate to have such a great team behind me. I am also very grateful to the Microbiology Society who were incredibly supportive of the project, sponsoring the adults' art competition 1st prizes, visiting the ART LAB event in-person and giving me the opportunity to present about ART LAB at the Annual Conference 2022 in Belfast.
If you would like to read more about the ART LAB project, see the commissioned and competition artwork and view photos of the event visit www.cardiff-artlab.com. The website will be available until October 2022.