Sensitisation of Clostridoides difficile to phage infection
Posted on January 23, 2020 by Annie Clarke and Dr Shan Goh
Each year, the Microbiology Society awards a number of grants that enable undergraduates to work on microbiological research projects during the summer vacation. Over the next few months, we'll be posting a series of articles from members who were awarded Harry Smith Vacation Studentships this summer. This week is Annie Clarke, a final year Biomedical Science student at the University of Hertfordshire.
From the student: Annie Clarke
The aim of my project was to determine whether phage sensitivity; the ability of a bacteria infecting virus to infect a bacterium, is transferrable in Clostridoides difficile between different strains.
The objectives were:
To test sensitivity of phage-resistant isolates to phage infection by co-culture with sensitive isolates. This involves mixing phage-resistant bacteria and phage-sensitive bacteria together, in a process called co-culturing, to see if a greater amount of bacteria lysis/death was observed.
To test whether membrane vesicles – small parts of the cell membrane from the bacteria which can carry molecules from a sensitive isolate – can transfer phage receptors present on the cell wall to resistant isolates.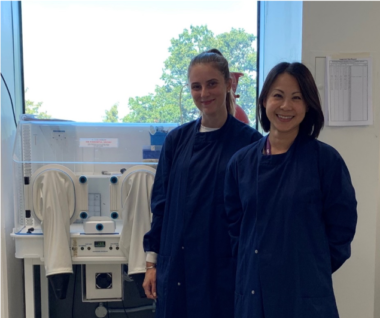 During the first week of my studentship, I worked alongside my supervisor to learn the methods and techniques necessary to work with bacteriophages and C. difficile, including working in an anaerobic cabinet and making media to culture the bacteria. I had not undertaken extensive work in microbiology before my studentship, except for practical sessions during the academic year, so I found it very interesting to see how different bacteria require specific growth media to be able to grow optimally. The first few weeks involved me learning new terminology and concepts related to bacteria and phage which allowed me to understand the work I was doing.
We based my research project on a paper which undertook similar research to what we intended to do with C. difficile, but with a different bacterium. My work included adapting these methods and testing to see if they worked with C. difficile. Shan and I reviewed the paper regularly to ensure we were following their protocols and making any adjustments necessary. I worked on my first objective for the first few weeks, repeating my co-culture experiments and determining the results by measuring the optical density and counting the amount of colony forming units observed. This involved strictly planning my weeks to ensure I had the right cultures grown and had enough time during the day to complete all of my work. I also had to propagate phage during this time to ensure I had enough to continually use for my co-culture experiments, so I had to ensure this was planned well to fit around my other experiments.
For my second objective, I isolated membrane vesicles with the help of a postgraduate student. I used the membrane vesicles to see if these were the causative agent in the lowering of the optical density and colony forming units observed from the results of my first objective.
The final part of my studentship involved staining suspensions of phage and C. difficile with fluorescent dyes and using a fluorescence microscope to observes the interactions between the bacteria and phage. I was able to capture images where it appeared that the phage were interacting with the cell wall of bacteria.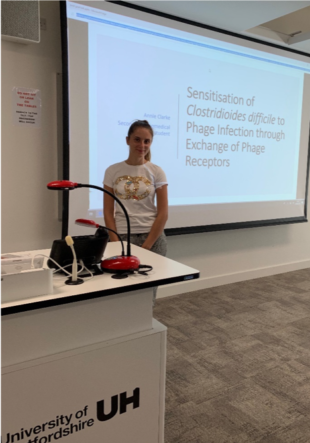 I presented the results I gathered and an overview of my studentship at a postgraduate seminar at my university, where I was asked questions about my work and explained to those with little background in the area of research what I had been doing. After speaking at a seminar to present my work, I feel more confident in speaking publicly and in presenting my own work. I have not had any experience of speaking and being asked questions about my own findings, so it was a good experience to get practice in this for the future.
On reflection of my experience during my studentship, I have greatly developed my ability to work independently and to use my own initiative to solve problems when they arise. Having gained experience in new methods and techniques I had not used before; I feel confident that I can go back into the laboratory during my third year with a wider skillset and a better understanding of methods I may need to do again. Being able to work in the laboratory unaided was very useful in allowing me to test my abilities and to manage my time efficiently to ensure I completed my experiments to deadlines.
Having collected good quality, reproducible data makes me feel more confident in my abilities and I have greater confidence in the laboratory, knowing that I enjoy working in this environment, which has confirmed I want to direct my career into laboratory-based work. Since my studentship, I have been offered a placement position and I believe my experiences have made me more confident and knowledgeable when speaking to my new employer.
After speaking at a seminar to present my work, I feel more confident in speaking publicly and in presenting my own work. I have not had any experience of speaking and being asked questions about my own findings, so it was a good experience to get practice in this for the future.
From the supervisor: Dr Shan Goh
Annie was an excellent student, she was punctual and enthusiastic throughout. I taught her how to prepare growth media, grow anaerobic bacteria and phage, and maintain a good research log book and calendar in the first two weeks. She managed very well, generating good data with very little time lost from poor planning. I then taught her how to isolate membrane vesicles by filtration and centrifugation, and a PhD student quantified her samples using specialized equipment. Subsequent phage infection assays were carried out with very little technical input from me as Annie became more confident in the lab. Towards the end, she learned to stain phage and bacteria and view them by microscopy with the help of a technician. Although the fluorescence microscopy did not work as well as expected, Annie persevered and tried it again independently. She made excellent progress in eight weeks and I am impressed by the quality of her work.
This experience has helped me to develop my leadership and management skills in the lab in terms of student expectations and teamwork. As Annie was new to research, I made sure to point out the positives of making mistakes and encouraged her to help others in the lab when she could, even though she was the youngest. I was happy that Annie fitted in well with others within my group and outside of my group. She experienced the research culture at the University of Hertfordshire, and I believe she enjoyed it. This studentship was also an opportunity for me to share good research practice with Annie, helping her become more resilient to negative outcomes, improving her data analytical skills and scientific communication skills. I was also able to practice some of my mentoring skills by giving Annie advice on careers, job applications, and interviews. She then applied for various placement positions during the project and was finally successful in getting a placement.