South Asian Heritage Month: Professor Gurdyal S. Besra
Posted on August 15, 2023 by Microbiology Society
South Asian Heritage Month takes place 18 July to 17 August. The awareness month was started by the South Asian Heritage Trust which seeks to elevate the prominence of British South Asian history and heritage in the UK. This year's theme is 'Stories to Tell', aiming to showcase the rich narratives of South Asian communities. To celebrate this year's theme, we are showcasing the story of our very own President, Professor Gurdyal S. Besra (University of Birmingham, UK).

Back when Professor Besra became President of the Society, at the start of 2022, he was interviewed by his colleague at University of Birmingham, Alison Iboro Offong. Below are some of the highlights from the interview, giving the story of his career journey.
Professor Besra completed his PhD in Organic Chemistry at Newcastle University, UK, in 1990 and then moved to Colorado State University, USA, to do a post doctorate. This is where his academic career really took off and he started to understand more about the biology of tuberculosis. He then got his first Fellowship from a trust based in New York, which proved to be a stepping stone to his current position in Birmingham. At just 27, he obtained a National Institute of Health award and remained in the USA for eight years, going from an Assistant to Full Professor during those years.
When it was time to move back to the UK, to be closer to family, Professor Besra received offers from several universities, and accepted a five year Research Readership with two studentships back at Newcastle University. Within two years, he had grown a group of around 25 people and had been awarded a Lister Fellowship and a personal chair.
Although he and his family enjoyed living in Newcastle, they decided it was time to move closer to home, in the Midlands. He was considering taking a position at the University of Leicester, UK, but was then encouraged by Professor Ian Trayer and previous Microbiology Society President, Professor Nigel Brown, to interview for a lectureship at the University of Birmingham. He was offered a position in the Biochemistry department.
Throughout his career, Professor Besra has seen the importance of understanding the interface of chemistry and biology and felt the UK was lagging behind in this area; he saw this as an opportunity because he understood both disciplines, which was a strong selling point for his group's research. He also started to gain an interest in the medical aspect of chemistry at the start of his PhD and this interest has stayed with him throughout his career. He knew that surviving within a pure discipline was not for him. Professor Besra has always felt that adaptability is important during a career in microbiology; reinventing himself every seven or eight years, by bringing in new technologies and new thinking, has been key to surviving at the highest level.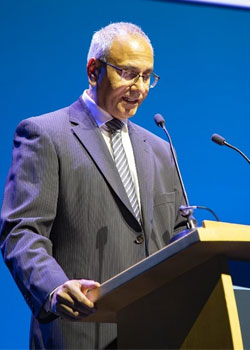 When asked for his career highlights, Professor Besra focused on the accolades he has achieved from learned societies. He has been elected as a Fellow of the Royal Society and the Academy of Medical Sciences. He has also had many named lectureships and medals from the Royal Society of Chemistry, Biochemical Society and the Microbiology Society over the years.
Publishing in journals has also been of significant importance to him, including the first papers he published as part of his PhD, back in the days when everything was submitted on paper.
When asked about the biggest challenge in his career, Professor Besra explained that this was maintaining a research group and having the ability to adapt to the 'next big thing'. Part of the challenge has been figuring out how the research was developing; keeping it topical and maintaining continuity. He thanked a fantastic, supportive group for maintaining this continuity.
To finish the interview, Professor Besra reflected on an Asian saying: 'everything is by luck; everything is by chance'. Much of the progression of his career was about being in the right place, at the right time, with the right person. He admitted this can be more difficult now, but can still happen and went on to add: "you must have that dedication, drive and enthusiasm to succeed, and this is something that was instilled in me by my dad. You could say, 'I've got my PhD, my postdoc, my first grant', but being driven is about saying 'I've got my second grant, I've got my third grant, my next student' and really starting to build something important around you. I've had a fantastic career – people go to the USA and they don't come back to the UK, but I've never regretted coming back. I've published over 500 papers and received many personal awards and medals. You could say that I've done quite well for a British Asian boy from Sparkbrook in Birmingham!"
The President is eager that the Society continues to build on our work supporting equality, diversity and inclusion. Greater diversity within all that we do will widen the talent pool available for the field of microbiology and create networks of ideas and collaborations, potentially leading to greater development and innovation. Working to be inclusive helps us ensure that we have a thriving community, which in turn will pave the way for us to support microbiology into the future. He has commissioned a number of articles from historically marginalised groups, in our Diversity in Microbiology collection, highlighting the talent we have within our Society, and where our members are producing cutting-edge research within our discipline.
Authors from historically marginalised groups wishing to submit to the collection should do so via the online submission system and note in the cover letter that their submission is intended for the 'Diversity in Microbiology' collection. If you have any questions, please contact [email protected].