10 June 2019 - Event proposal applications and Society-Supported Conference Grants deadline
13 May 2019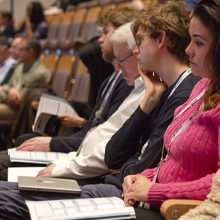 Organising an event? The Microbiology Society can provide full secretariat support services or financial support to members depending on the type of event being organised.
Focused Meetings
Full secretariat support services are offered to members wishing to organise a Focused Meeting. Focused Meetings can be held jointly with another organisation but should concentrate on one specific area of microbiology. Examples of previous meetings include the 16th International Meeting on Pseudomonas, Antimicrobial Resistance and One Health and Microbiomes Underpinning Agriculture.
The application deadline is 10 June 2019. Find out more on how to apply.
Society-Supported Conference Grants
If you are organising a conference in any field of microbiology, either independently or in partnership with another Society, you can apply for financial support through a Society-Supported Conference Grant of up to £2,000. Over the years the Microbiology Society has awarded numerous Society-Supported Conference Grants to help members cover the cost of invited speakers' travel, accommodation, registration and subsistence. Applications for Society Supported Conference Grants need to be received by 10 June 2019. Find out more about eligibility and the application process.