Members Sreyashi Basu and Sanjib Bhakta win the 2020 Microbiology Outreach Prize
08 September 2020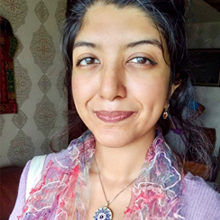 The Microbiology Society is pleased to announce the winners of the Microbiology Outreach Prize 2020, Sreyashi Basu from University College London and Sanjib Bhakta from Birkbeck, University of London, for their project Joi Hok!
The outreach initiative has helped to educate the public about tuberculosis (TB) and effectively control the disease burden within the wider community. The aim of the project was to bridge the gap between laboratory science and public health research on a major global health challenge.
Sreyashi said of the award: "We are deeply pleased and honoured to be awarded this year's Outreach Prize. I can only hope that this initiative can go on to inspire other early career scientists in the field - to explore novel ideas, and recognise the potential of good public engagement as a way to increase the public's confidence in science and build stronger communities."
The project was conducted through school-based workshops that used creative tools, such as folk-art, to facilitate an understanding of TB. These workshops have encouraged children from underprivileged backgrounds, who were disproportionately affected with the disease, to engage, learn and discuss the issue of antibiotic resistance in the context of TB. The subsequent transfer of knowledge has led to an increased awareness of the disease and has encouraged more patients to adhere to anti-TB medication.
Sanjib added: "To us, engagement has always been a two-way process with the goal of generating a mutual benefit between the public and academic researchers, which ultimately enhances the quality or impact of our research on accelerating new drug discovery. We believe that the innovation in research is valued by people which has become ever more crucial this year with the unprecedented pandemic."
The long-term goal of this campaign is to encourage international collaboration amongst a variety of arts and sciences professionals in order to raise awareness and understanding of many health crises that put the general public at serious risk.
One of Sanjib and Sreyashi's nominators, Professor Simon Gibbons, said that he is "absolutely delighted for them to win this year's Microbiology Society Outreach Prize. I congratulate them and their associates for paving a pathway of melding science, art and music to enhance public awareness and knowledge of scientific interventions."
To find out more about the Joi Hok! project read our blog in which Sreyashi tells us more about the initiative and its impact.
The Microbiology Society's Outreach Prize is awarded annually by the Society to an individual or group of microbiologists who have demonstrated an outstanding outreach initiative. To find out more about this Prize, please visit our website.
---
---
Image: Sreyashi Basu.